How to Vox
Read the article. Write a comment. Be the voice of gaming.
World of Warcraft has an end of Summer's End celebration that lasts 18 hours (total) with fireworks displays occurring over the capital cities in the virtual world, on the hour, every hour. Amerist, Jason, and Nutmeg take a trek through Azeroth (the land of the virtual world of WoW) to watch one of these displays.
via MMO Anthropology on YouTube.
William McCormick brings us a review of Season 9.5 in Star Trek Online with his YouTube show The Voyage. With the crafting changes and the doff system modified, people are beginning to acclimate to what's going on, but what changed? and how?
Be sure to hop over to YouTube and leave a comment.
MMO video games have given a context for communities to live in virtual worlds—not just through the mechanics and world of the game itself, but through props and other elements of the virtuality that allow players to regenerate parts of their own lives. With the passing of the 4th of July holiday in the US, many MMOs introduced fireworks displays, items, etc.
The result of introducing props from external mainstream cultures, players bring their own cultural expectations into the game.
In Firefall numerous users have taken the fireworks props and regenerated their own displays in game; and now Firefall has added an official Forth of July-type celebration.
via MMO Anthropology on YouTube.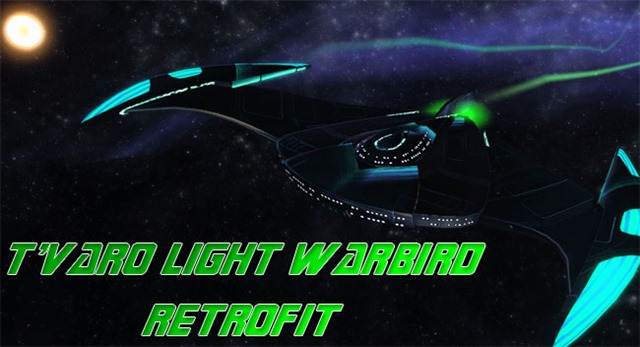 It's been almost a year since the release of the Legacy of Romulus expansion to Star Trek Online, which introduced the playerbase to a third faction: Romulans. With the third faction came an entire ship family, the warbird, and new styles of play. Amid these new ships also came some interesting ideas from Cryptic about how space battles proceed. One of these ships is the Romulan tier five T'var Light Warbird Retrofit.
While the T'varo Retrofit has the handling and feel of a high-powered escort, it's actually an extremely versatile vessel that allows it to fill a multitude of roles. Depending on how the captain chooses to seat BOFFs and what consoles are slotted (at 3x3x3 for the C-Store version) it
…

Every month the free-to-play gaming industry tries out different methods of monetizing their content. We've seen games that sell costume items for cents on the dollar (looking at you Team Fortress: Hat Edition), those that have lock boxes drop that can be unlocked with $1.25 keys (Perfect World Entertainment anyone?) and those that sell content like DLC. The concept of the "Founders Pack" that precedes a new MMO or expansion is also becoming common.
Some of these virtual services have seen an inflating cost to customers. The quality of the games a virtual sword or spaceship comes from may be questionable; but many Founders Packs and the like come for games that aren't even on the public market yet.
Transformers Universe is a new MMORPG based on the Hasbro line of toys, developed by Jagex Games Studio Tranformers Universe will be …
[Update: According to Polygon the IeSF has reversed its decision and promised to retain all-women divisions and change segregation policies, which means, "IeSF shall have two event categories: 'Open for All' events and events that are reserved for women."]
Something is rotten in Finland. The Assembly Summer 2014 Hearthstone tournament will be segregated so that only male players can participate. Sorry, women?
"Your information is indeed correct, the tournament is open to Finnish male players only," said Markus "Olodyn" Koskivirta, head admin of the Assembly Summer 2014 Hearthstone IeSF Qualifier, in a statement to PC Gamer. "In accordance with the International e-Sports Federation's (IeSF) tournament regulations, since the main tournament event is open to male players only. This is to avoid possible conflicts (e.g. a female player eliminating a male player during RO8 [round of eight]) among other …
Titanfall, Respawn Entertainment's new first person shooter with an amazing twist, has been out for more than two weeks and already there's cheaters. Of course, Respawn is using anti-cheat technology (which to us voces can sometimes be controversial in practice) and that technology is bearing fruit.
The first wave of bans has gone out, hammering cheaters where they live. So much so that Respawn has published a useful FAQ for people who might have been caught up in the sweep.
Titanfall uses GameBlocks, FairFight to detect cheaters on PC. Since the launch of Titanfall, we've been collecting data on people who are cheating on PC but not immediately enforcing bans. As of Friday, March 21st, that has changed and we have started banning cheaters in Titanfall.

We will be continuing to tweak the algorithm over time to catch more cheaters.
However, bans in Titanfall are not like bans in other games. In fact, people …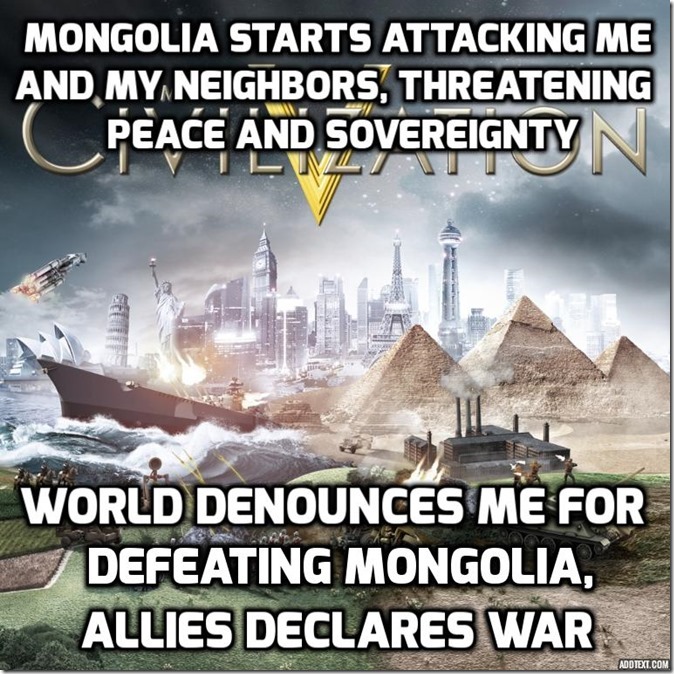 Civ V is just one of those games that's always getting under gamers' skins—while at the same time being one of the best things to play to keep those brain cells firing. Brought to Meme Monday, as usual, via Reddit.
MyDream Software Inc. just kicked off their kickstarter for a voxel-based sandbox MMORPG designed to capture the imagination of players. The Kickstarter campaign seeks $100,000 by Saturday, April 12, 2014. The game, described as "part geocaching, part MMORPG, and part user generated builder game," is built such that the world will be a different place every time players log in. And players will have a huge amount of control over how that world develops. For more information on this project check out this article on SiliconANGLE by Kyt Dotson and visit the MyDream Kickstarter page.
Indeed. I love that smiling face. Brought to you, as usual, via Reddit.