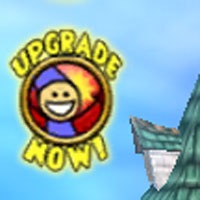 What is that strange blip marring our skyline? Why yes, it looks like Wizard 101 has gone to a subscription service with a first-world is free paradigm. It appears in order to access much of the last levels of Wizard City and any world beyond—and all of this happening before we voces were able to reveal our innermost darkest thoughts about the game's largest failing.
Examining the pay structure it looks like it will cost about $10 a month to access everything except the most basic parts of the game. Those basic parts appear to be an abbreviated version of Wizard City and, dare we say it, non-subscribers are relegated to using the cumbersome menu chat and cannot use the filtered chat mechanism at all. See the pay schedule here.
Having played through the game, the abbreviation happens about half-way through the experience that is the first world itself, at about Cyclops Lane. Which means that players really can only get through one street total (think of this as the first campaign) before running into the subscription wall. We suppose that the game might be fun to play a few times through that area, but it's basically the semi-newbie training campaign and everyone knows those quests quickly become quotidian for anyone with a severe case of altitis.
It is interesting to see that the True Friend chat ameliorates the filtered chat to another level (although we have never seen this in action.) It is a chat that is activated when two players exchange a pair of multibit random keys to prove that they know each other outside of the game. Unfortunately, from a security point of view, it is actually possible to transfer knowledge of these keys in game itself via filtered chat using simple first-letter-gaming ciphers.
C'est la vie. Wizard 101. Unless this game receives further fanfare in the media or we receive more money to review further this will be our last series on the game.
Leave a Comment
Posted under
Reviews
,
KingsIsle Entertainment
,
MMORPG
,
Wizard 101
|
24 Comments
Like this article? Subscribe to our
RSS
feed