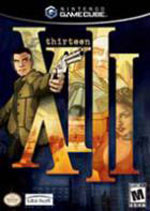 Thirteen by Ubisoft is an interesting little escape from the usual photorealistic first-person shooter types out there by presenting everything in a much more comic book cell-shaded style. The opening sequence to each of the chapters looks exactly like panels being produced out of a comic book, and internal events snap into view with a similar effect.
With voice acting by everyone's beloved David Duchovny (who played Fox Mulder on the X-Files) we picked up this title less because we know the comic it is set from and more because we don't mind his voice.
The storyline is pulp-and-parcel for everything 1980s spy noir which tracks extremely well with the voice acting and the cartoon nature of the environments and display. Unfortunately, the game's attractive qualities really stop at the view—the story is a bit lackluster, it's a standard everyday FPS with some stealth elements, and that's about it.
The game starts off with the main character, XIII, waking up with a bad case of the amnesia. Very shortly thereafter he is thrust into a life-or-death situation of having to defend himself from people who want to kill him. The espionage assassin's lament plot evolves from there around large scale government spy tales and works it way through sneaking through various environments armed with the standard fare of murder and mayhem.
Even with little replay value this game is worth picking up from the bargain bin just to give it a run-through. The cell shaded, comic book style reminded me somewhat of play the Max Payne games. The voice acting is actually fairly decent, although sometimes the writing is a bit overdone, and the game really does not take itself seriously enough to matter.
Leave a Comment