I've heard it said there are two real drivers for advancing technology; games and porn. So it's no surprise that when the opportunity comes along for players to mix in porn with their games, they'll race for the chance like a shore-leaved sailor with a two-for-one coupon to a whorehouse. Given that, here's a heaping helping of sexy mods and patches for Fallout 3.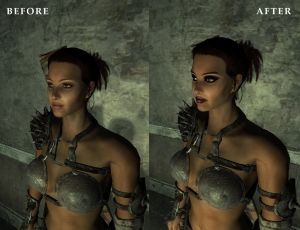 First up, the girls of Fallout. Let's just say the wasteland hasn't been kind on their looks. To help them freshen up, try this Female Makeup Mod. It's also a real trick to find decent clothes out past the apocalypse, so you might be interested in a Better Underwear Patch, or this Sexy Lingerie Mod to spice up the night life around Megaton.
You can also slip on a Female Pirate Outfit before going of to steal some booty from those Deathclaws.
Don't forget the mod to Improve Female Textures in Fallout 3, either. A little bit of smoothing and shading does wonders for a girl's skin tones.
But you're really here for the nude patch, right? Sure. Oh, they exist, took about ten seconds for someone to make a nudity mod, but they're a little tricky. Bethesda hasn't seen fit to release a proper developer kit yet, so patches and mods are really just touch and go. I haven't tested these patches, and they might not work with your computer. That said, who can resist a gal in some Nude Painspike Armor? You might also be interested in a general Fallout 3 Nude Mod if you're looking to explore a little more than just the wasteland.
Hopefully, these mods will tide you all over until Bethesda gives the modding community the tools it needs to transform Fallout 3 into a proper cornucopia of pornomachina delight. Ah, games and porn. A truly advanced combination.
Visit our main page for daily news, videos, and commentary.
Leave a Comment
Posted under
News
,
Fallout 3
,
Nude Patch
,
Pornomachina
,
Sexy
|
7 Comments
Like this article? Subscribe to our
RSS
feed