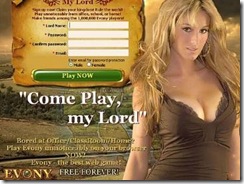 Only two days in and Evony has already dropped their libel suit. Of course, it's also become egregiously expensive for them, so perhaps they're just attempting to ditch before it gets any worse. Since last summer, Bruce Everiss—videogame blogger—has been posting content critical of Evony and their marketing practices (something mentioned here on Vox Ex Machina as satire.)
The Guardian is running an article on this particularly amusing event,
The company abruptly abandoned its case against Everiss, which was being heard in the supreme court in Sydney, halfway through the second day of the case – and is now facing a legal bill of A$114,000 (£68,800) for the defence's costs.

In a statement put out by Benjamin Gifford, the "vice development director" of Evony's legal and intellectual property strategic division, the company said that it would not pursue the case in Australia or elsewhere. He told the Guardian that the decision had been driven by criticism from players of the game. "A lot of our players expressed opinions about the lawsuit," he said, "and we reacted to that."
Wow. That's a lot of money! So it's about how the players view the lawsuit? Or perhaps it's just that Evony will have to face discovery and perhaps some character witnesses who might point out that in fact the game is extremely sleazy, bilks players out of their money offering little in return, and that's that?
According to sources about the libel suit their case also started to fall apart today when Benjamin Gifford, the "vice development director" of Evony's legal and intellectual property strategic division, went under cross-examination. He was forced to admit that his claims to have BA and MBA degrees were not true. Then Everiss's lawyers managed to make direct connections between Evony and two companies:  Regan Mercantile of Hong Kong and Regan Mercantile of New York. This vindicates Everiss's original allegations of Evony being connected to Chinese gold farming outfits—and also makes the center of many of his accusations that Evony meant to quash as being "libelous." However, libel must be untrue and it seems that our heroic video-game blogger happens to have the truth on his side.
More amusing, Evony decided to bring their lawsuit against the UK blogger in Australia leading to accusations of "libel tourism"—a terrible behavior where a company sues someone in another country with weaker libel laws than where the libel occurred. Unfortunately for Evony, however, their pulling out of the case now means that they still owe a bunch of money: about A$80,000 by 12 April, 2011. If they fail to pay this, the case will begin again. Everiss expects that he and his team should be able to win a summary judgment before then, which would bring the hammer down on Evony and force them to pay Everiss's legal costs in the matter (as they've also racked up for him.)
The crux of the "libel tourism" in this case happens to be because neither Evony nor Everiss happens to be from Australia. Everiss lives and works in the UK and Evony is registered in the US. So it looks a bit strange that they would reach out to a totally different country in order to forward this case.
Link, via The Guardian UK.
Leave a Comment