Tomorrow.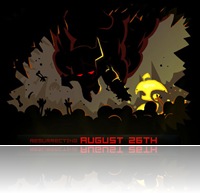 Castle Crashers by The Behemoth—possibly one of the cutest action-arcade games playable on the Xbox 360 with friends—features a great deal of downloadable content to extend and otherwise enhance already rapid-fire, chibi gameplay.
The Necromantic DLC pack is being released Thursday, Aug 26th 2009. According to sources, the last time The Behemoth released a DLC they spread codes across their forums like rich tapioca pudding. So we'd say keep a lookout for that.
For just 160 MS Points, come Thursday, this lovely little DLC could be yours. Just let us know how it works out!
Link, via The Behemoth dev blog
Leave a Comment
Posted under
News
,
DLC
,
The Behemoth
,
Xbox 360
|
1 Comment
Like this article? Subscribe to our
RSS
feed