A mushroom made of pure, uncut, 100% raw cash. Gamers this year gave the falling economy, likened by experts to a "black pit where no hope or light can reach," only a passing glance as they marched merrily out to stock up on sequels and some truly unique games. So long as the electricity stays on, the gaming community has remained quite content to do without other luxuries, such as heat, light, and food that wasn't extruded from a noodle machine in China.
While sales of other products sunk into the clinging tar of the recession's bubbling caldera, video games remained stable, even rising. This strange insulation from economic woe has been linked to several factors, chief among them that games offer very cheap entertainment for the price, a great incentive for those who are staring down the barrel of a jobless rent day. Also, …
Sometimes, animators get bored. And sometimes, they realize that hulking MMORPG filling up some six gigs of their hard drive is really nothing more than a model pack with pretensions.
And sometimes, they also play a Rogue.
The result in this case is BLIND, a nice little machinma about an assassination attempt on Lady Prestor, or, as we in the Horde know her, Onyxia, brood mother of the Black Dragonflight.
Video games these days are big productions, and with good reason. The gaming industry is looking to clean up about 50-billion dollars in revenues this year, and this growing power to suck cash from the wallets of all peoples of the world shows no signs of relenting. The hunger of gamers and gaming has no end, and cannot be satisfied, only sated for a brief moment, by the next latest and greatest experience. To craft these experiences, game designers build their worlds using the latest technologies, the finest graphics their budgets can conjure up, and the best music from the most skilled professionals in the world.
That means calling out to the minions of the music industry, labouring in their pits and studio hovels. Not only that, but the clarion horn of video gaming cash has echoed through the valley of Hollywood, drawing out those …
It's been a while since I've had a chance to write about tentacled abyssal horrors from the pelagian depths, which is why the flash game I Fell In Love With The Majesty Of Colors comes as such a welcome surprise. In this little 8-bit styled adventure, you take on the role of a nameless elder horror from the ocean fathoms who has just recently risen up. Lured to the surface by colourful balloons, you experience your first encounter with humanity and so the game begins.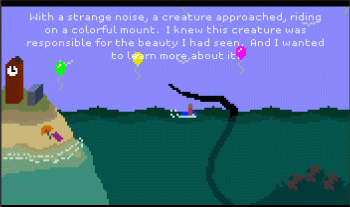 The controls for Majesty of Colors are simple enough, just move your mouse about the screen and the creature will stretch forth a tentacle to follow your motions. Click to pick up and hold things like fish and screaming humans. You interact with the game world by picking things up, moving them …
One of the many joys of running wild on a popular blog site is that I get to introduce thousand of people to my own personal favourite things. You might have noticed I've a bit of a fetish for retro gaming from the old NES era, and I'm not alone in this strange desire. The good Doctor Octoroc has thrown together a collection of Christmas carols, mixed in the 8-bit style like all good video game music should be. The result is 8-Bit Jesus: Classic Christmas Songs in the Style of Classic NES Games, and why are you still here reading this? Go! Go now!
Okay, maybe you need more convincing.
Here's why this collection of video game Christmas music kicks ass; the songs aren't just some remix of carols with bleeps and blurps in for the notes. Oh no. …
Between sucking down chocolate squares and getting lit up on eggnog, somehow I found time to open presents this Christmas morning. Turns out I got Metroid Prime 3: Corruption, and a card to GameStop for even more used gaming goodness. I gave one of my cousins Sam & Max Season One (buy it!) and the other got Civilization 3 (buy it!) because seriously, have you seen some of the games the kids are playing these days? They need some right proper quality in their digital diets, I say.
So how did you guys make out? Post your Christmas loots and let us all know just why we should be jealous. What did Santa stuff elbow-deep down your stocking this year?
We are gigantic fans of adventure games in general. We play them a lot. See The Experiment, The Longest Journey series, Syberia, Bad Mojo, and more—but this one totally takes the cake on the worst teaser ever.
Words do not describe how terrible and not compelling this video is. If I were going to purchase this game at the store because I liked what it said on the box, this would probably turn me off. What did they make this in? Windows Media Maker?
It starts off too slow, pulsing between text and short-shot flip animation graphics. Then it leaps into these inexplicable falling letters that don't actually create the title words, they rather fall into darkness, and that's that. Finally we get the title.
And …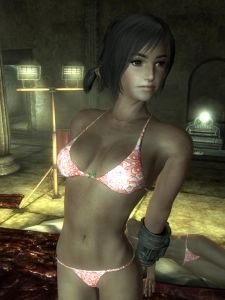 Bethesda has finally released the dev tools for Fallout 3, the Garden of Eden Creation Kit, or GECK. The name takes us back to the heady days of Fallout 2, while the tools themselves take us into a future filled with pornomachina. It's one of the cardinal rules of such things that if you give people vast powers of creation the first thing they'll do is strap huge cocks over everything. Once that's run its course, the more productive among the unruly masses will buckle down and get to cranking out the porn.
The GECK has been available for a bit over a week now, so the first faltering attempts at Fallout 3 nude patches and clothing swaps have been replaced by a more skillful selection of nude patches and sexy mods. So …
Despite a certain amount of grumbling in the ranks of the hardcore who shot to the end of the game in about 13.6 minutes, Warhammer Online has been doing rather well for itself in the MMORPG market. A good launch, decent player retention, and a niche apart from World of Warcraft have given Warhammer Online the hot player injection it'll need to stay competitive against the cold and unrelenting might of the Lich King.
Mythic Entertainment isn't stopping there, though. Taking another cue from the 800-pound gorilla, Warhammer Online has just opened up a recruit-a-friend program with a bounty of 30 days free time for every new player you sign up. Here are the details, care of The Warhammer Herald.
* When you become a paying subscriber to Warhammer Online: Age of Reckoning, you'll receive 3 recruitment notices to …
We've mentioned before that the MMO Tabula Rasa would be going free for a while before closing its doors, but the folks over at NCsoft surprised up by laying out the red carpet a month early. Right now, yes, now, Tabula Rasa is free to play for anyone who can sign up with a PlayNC account. They've also poured in a swirling soup of new content to sample, because really, there's no sense in holding anything back, is there?
Tabula Rasa is a strange combination of First-Person Shooter and MMO Role-Playing Game that plays out something like Halo with leveling and a total lack of fresh ideas. The game failed to open big thanks to its rather generic nature and technical problems, not to mention certain MMORPG elephants in the room that blocked out any chance the market might have had to discover the game.
Still, there …