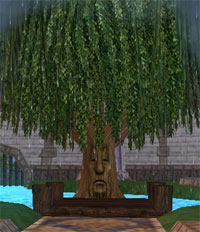 Blood and thunder! The Storm school has it going on—thunder, lightning, gale force winds, the unleashed power of brutal nature. Between having an energetic frog for a professor, Halston Balestorm, and a depressed tree, Torrence (in a mood resembling Eeyore) the Storm school is a good place for wizards looking to put a lightning bolt where the sun don't shine.
A brand new indie game company is making their debut onto the Internet announcing a yet undisclosed video game. The only thing that we voces can tell you about this game right now is that it will be gorgeous.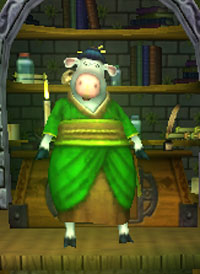 What can we say? Your professor is a cow. Moolinda Wu heads up Life studies in Wizard City and she brings her teachings to her students in all her maternal glory. Life wizardry is all about the connection between all things, a couple friendly forest creatures, and a lot of healing. One of the strange boons of the Life school is the ability to use self-only healing spells on teammates—this particular effect has saved our beef in duels more than once.
The world is ending. The Wizard 101 beta is officially closing up shop, slatting their windows, and deleting our characters. Weep! The event will take place tomorrow, August 29th, at 7:00a.m.
Don't forget, also information about our extra-special-gift that has arrived. See the body text.
A little late in the month, but here's our Upcoming Games – August 2008 edition!
For release this month:
Shepherd's Crossing (PS2) – August 19, 2008
Also known as: Welcome to Sheep Village, Youkoso Hitsuji-Mura (JPN)
Check out a preview of the game. Could be a the start of a "new" farming series here in North America.
Harvest Moon: Island of Happiness (DS) – August 26, 2008
(See our recent post for more info on Harvest Moon releases)
September:
Harvest Moon: Tree of Tranquility (Wii) – September 16, 2008
(See above for more info on Harvest Moon releases)
Spore (PC, Mac, DS, more) – September 7, 2008
Battle Fantasia (XBox 360) – September 16th, 2008
Lost in Blue: Shipwrecked (Wii) – September 23, 2008
Samba de Amigo (Wii) – September 23, 2008
Disgea (DS) – September 23, 2008
Hamtaro Ham-Ham Challenge (DS) – September 23, 2008
October:
Rune Factory 2: A Fantasy Harvest Moon (DS) – October 16, 2008
Little Big Planet (PS3) – October …
The beta is ending soon! And with it shall go our characters. So an ominous note from our professor reads. It also suggests that people take as many screenshots as possible of their favorite wizards so that they can recreate them on the other side.
Fare thee well Iridian Stormshard, we barely knew thee.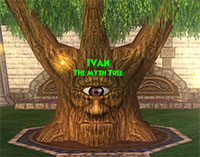 Well, sit right down and we'll tell you a tale, a tale of fame and woe. Where in the midst of the Ravenwood, a cyclops tree does grow. And aside he sits to a school where a wizard of much grim demeanor. And that teacher's name is Cyrus Dake.
Myth wizards enjoy a strange set of spells that mostly summon amazing and monsters creatures to do their worst. However, what really sets the Myth school apart is that they get a minion right off the bat.
Prospector Zeke has a few hide-and-seek quests for people to do, one of the first ones that newbies like us run into is the search for the Smiths. Here's the locations of those Smiths so that you can more easily find them.
Locations are listed in the body.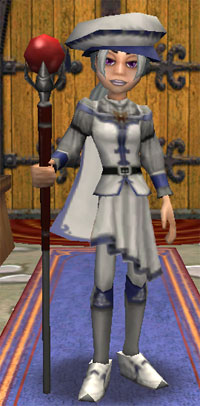 "Hello gathered ladies, gentlemen, and assorted mythological creatures. I am Iridian Stormshard, student of the Ice School of Wizardry, Protector of Wizard City—and all around coolest chick on the block."
At this point us voces would like to introduce you, the reader, to the naming method that Wizard 101 employs. Basically it's kind of like combination lock with three spinners. The first spinner chooses from about forty first names, and the second two choose from forty each prefix and postfix to create last names. The names are such that we have people with surnames like Shadowblood, Frogslinger, and Pixiepants running around. (Frogslinger is actually the name of one of our alternate toons.)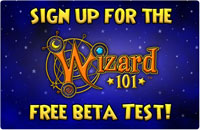 Wizard 101 is a quirky MMO that not only tugs at the heartstrings but brings back fond memories of what a game should be like: strange, lighthearted, epic, and vast. The game world is cartoony, the characters are caricatures, and the scenarios are right out of the Brothers Grimm's Fairy Tales. The environments are colorful and pleasing to the eyes and rendered with the cartoon fantasy that other worthwhile games have approached worlds, they don't try too hard to be realistic, but they also don't bend over into the surreal or absurd either.
So, get your decks everyone; it's time to dive in.