The news from San Diego's Comic-Con International this past weekend is that Microsoft will release Viva Pinata for the Nintendo DS.
It looks like the game will be a port of Rare's original Xbox 360 game, with some changes to accommodate the handheld's functionality. As the announcement came on Kids' Day (Sunday), perhaps this is MicroSoft's attempt at the kiddie (and casual gamer) market, as most kids don't own an Xbox but they sure love the DS!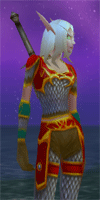 She slices! She dices! She also makes kindling of vaguely anthropomorphic trees!
Not too far into the mission, Helvetica quickly found herself wading through cords of firewood as every tree-like creature in the area came for her blood. Between the snapping of boughs, limbs, twigs—and the shocked and startled expressions on the treant's faces as she cleaved them in twain—she let all of her frustration out on the woody nuisances.
Of course, she had also carefully made certain no other players were camping them before she waded into the fray. She really didn't want to deal with arrows-from-nowhere thudding into her kills.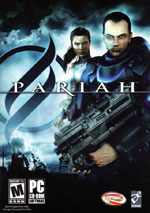 Pariah is an all around mediocre first person shooter that just cannot stand up under the weight of its own ego. The graphical complexity of many of the environments was certainly beautifully painted, the puzzles seemed interesting enough, and the foes—while not that bright—did perish with satisfying cries of pain; but it seemed to lack that spark that makes a video game worth playing. It is a straightforward nothing-special-here first person shooter and nothing more.
Pariah really did not live up to our snobbish standards where it comes to well written and compelling plots. It fell down so badly in that area that it's hard for us to give this game a good score. Don't come to this game expecting a plot or characters that make that much sense. It …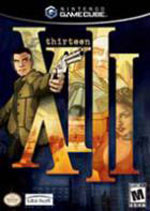 Thirteen by Ubisoft is an interesting little escape from the usual photorealistic first-person shooter types out there by presenting everything in a much more comic book cell-shaded style. The opening sequence to each of the chapters looks exactly like panels being produced out of a comic book, and internal events snap into view with a similar effect.
With voice acting by everyone's beloved David Duchovny (who played Fox Mulder on the X-Files) we picked up this title less because we know the comic it is set from and more because we don't mind his voice.
The storyline is pulp-and-parcel for everything 1980s spy noir which tracks extremely well with the voice acting and the cartoon nature of the environments and display. Unfortunately, the game's attractive qualities really stop at the view—the story is a bit …
Overall Score: 6/10
Graphics: 7/10
Sound: 5/10
Gameplay: 6/10
If you're looking for a fishing game that takes full advantage of the Wii's capabilities, you'll be disappointed in Rapala Tournament Fishing for Nintendo Wii. Although it has the potential to simulate a realistic fishing experience, the game falls short on several areas.
On the plus side, the game offers a lot of information on real fishing in the extras area, but not a lot of that is used in-game. As it issponsered by Rapala brand lures, the focus is on the marketing aspect, and not necessarily on gameplay itself.
Some of the biggest fish in the game are really impressive as you drag them out of the water – Peacock Bass in the Amazon, Nile Perch in Africa – with superhuman strength. If only more detail had been put into skill (and correspondingly, into good motion sensing). If you absolutely love real-world fishing, you may find …
Natsume/Marvelous Interactive has some upcoming games in the Harvest Moon Series.
HM Wii – Release Date: Q2 2008
The actual title is still pending, but sources hint at "Tree of Tranquility". Now you can harness the Wiimote for what it was destined for: farming. Play as a boy or girl. Bonus: fishing!
The wait will be worth it for this one.
HM DS Cute (Girl version of HM DS) – Release Date: Q1 2008
This is the girl version of Harvest Moon: DS. Natsume usually releases a girl version after the original boy version of the game. The benefit to this, besides being a chick, is that they usually fix a lot of bugs that slip by in the original.
Harvest Moon Boy & Girl (PSP) – Release Date: July 31, 2007
This game is actually direct port of PS1 game, Back to Nature. It combines the boy and girl version so you can choose which …
E3 2007 was full of news on upcoming games for the big three consoles – Nintendo Wii, Sony PlayStation3, Microsoft XBox 360. But no clear winners this year, no secret revelations. A lot of the titles were already revealed earlier this year. One of the ones that caught my eye was LittleBigPlanet for the PS3 (check out the video for it!). Also there was more news on the upcoming (Q2 2008) Harvest Moon for the Wii. Aaaah, farming.
One of the problems that arose with E3 is that the costs for large venues creep up. Game developers see more return from smaller, specific expos where they can gain more attention for their own games instead of competing against each other. So this year's E3 was smaller than previous years, with a limited number of attendees. The Entertainment Software Association released only about 5,000 invitations to the event, compared to …