Perfect World Entertainment and Cryptic Studios MMO Star Trek Online's Stephen D'Angelo is stepping down as Executive Producer to be seceded by Stephen Ricossa.
D'Angelo is best known by the community as the guy who descended into the forums to tell the playerbase how it was when Cryptic Studios claimed there was an exploit in a patrol in Tau Dewa. Leading to a great deal of animosity from the playerbase who had not entirely known that what happened in the patrol mission in question was actually an exploit at all.
In Ricossa's acceptance blog post, he hinted at the potential for future STO changes and content, specifically teasing a much-waited-on change to sector space:
"With the launch of Season 10 Sector Space will be comprised of only three maps, with each one representing a quadrant that exists in STO. Yes, the sector walls are coming
…
This weekend saw the news that AOL is rolling the Joystiq brand into its Engadget blog and while doing so shutting down MMO blogs Massively and WoW Insider. It will be sad to see them go. Vox Ex Machina in particular has a soft spot for WoW Insider, after all they published about my World of Warcraft fanfiction. The sites are officially closed. Further coverage at SiliconAngle from Kyt Dotson.
This morning The Elder Scrolls Online developer ZeniMax announced that the MMO title will be dropping subscriptions and become buy-to-play for PC players. The title is also expected to launch on PS4 and Xbox One, with the same deal, on June 9th.
The title will be rebranded as The Elder Scrolls Online: Tamriel Unlimited to reflect this change.
While the game will become buy-to-play without a subscription, ESO is offering a premium subscription membership called ESO Plus. This is expected to provide exclusive in-game bonuses including a monthly allotment of the premium currency, crowns. ZeniMax announced during the live stream that the crown allotment will be 1500 a month.
The Elder Scrolls Online: Tamriel Unlimited includes all the great gameplay from the original PC/Mac game, plus all the updates and content additions, including the exciting new Justice and Champion systems. All existing PC/Mac
…
Cryptic Studios's free-to-play Neverwinter Online has a beta coming to Xbox One, signups are already available on the Perfect World Entertainment's Arc Games website. It will arrive on the console during Feburary 5-8 and is slated for an early 2015 launch for Xbox Live Gold members. Read more about it with Kyt Dotson's GameOgre coverage.
So this just happened. Guild Wars 2 has been going for two years and it seems that good machimina for the title has been somewhat thin—although it may be unfair to compare it to cultural juggernauts such as World of Warcraft. That said, there are a constant stream of gems in the rough and "Do You Want to Build a Golem," by Eexa on YouTube is excellent.
The song presents the narrative of an asura—the tiny-goblinoid race of Guild Wars 2—who wants to build a golem—a mechanical robot indicative of the asura.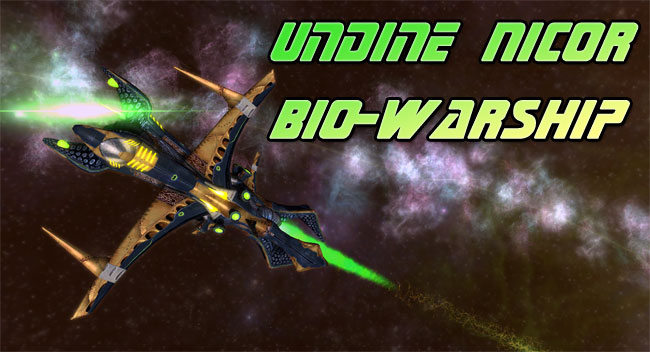 The introduction of the Undine to Star Trek Online also meant the addition of a few of their ships. Amid them, the Nicor Bio-Warship is a new lock box ship (STO: Season 9 Dev Blog #18) and the Dromias Bio-Cruiser is a lobi store vessel. This review will focus on the smaller, heavily-armed-but-durable Nicor.
Any STO captain looking for a fairly solid low-rent escort with cruiser durability with an exotic aesthetic should take a peek at the Nicor. As a ship, it packs a significant amount of firepower, has a hairpin-tight turning radius, and a fair amount of resilience in a firefight. The addition of a Death Star murderbeam doesn't hurt either.
Acquisition
As rare drop from the Undine lock box, the Nicor is either acquired through luck or by buying it from someone who had one drop. Right now the vessel runs around 150 million Energy …
Oh gods why did we do that?
So, we heard that the NBC comedy The Mysteries of Laura, a weird sort of comedy-slash-cop-show about a detective who is also a mother, would be running an episode that featured a killer who plays online games. The episode in question is S1E4 "The Mystery of the Sex Scandal."
The folks who write prime time TV drama shows rarely do a good job of portraying actual gamer culture or gaming in general so we did not go into this expecting much. Of course, it's a comedy so perhaps it could resonate with some actual subcultural research?
Of course not.
The online gaming portion of the show only actually opens up slightly over half-way through the entire episode and it's barely there.
It starts out with a lame, tired stereotype of a bunch of male geek gamers all drooling
…
There's an upcoming highly-3D MMO coming out from Alpha Entertainment Group – with an upcoming Kickstarter – called AlterVerse. GameOgre wrote up a small preview of what this game will entail, showed off a nice video, and talked a bit about the features. (Teleporting iPhone among them.) Hard to say much about something like The AlterVerse Project right now, but it might be worth taking a look. Go read up on it at GameOgre.
This one in from the MMO Anthropology show—this round they below up a Mt. Dew can, a Strippler memorial (that looks oddly like Krusty the Clown's hair from the Simpsons), and finally a Walmart.
via YouTube.
The Delta Quadrant of Star Trek: Voyager fame is coming to Star Trek Online with the upcoming expansion Star Trek Online: Delta Rising, which will release October 14, 2014. Cryptic Studios and Perfect World Entertainment has been teasing content from this expansion for months now with ever informative dev blogs describing a multitude of things.
For STO players content changes will include the introduction of the Delta Quadrant itself and the addition of the Kobali ground adventure zone. The mechanics of the game will change with Delta Alliance reputation—sporting fun stuff such as bio-neural gel packs and other Voyager references—a gear upgrade system, the introduction of Tier 6 ships, and a whole new hybrid-class called Intel ships.
The whole affair may yet prove to be a very interesting experience. We voces look forward to reviewing the experience.