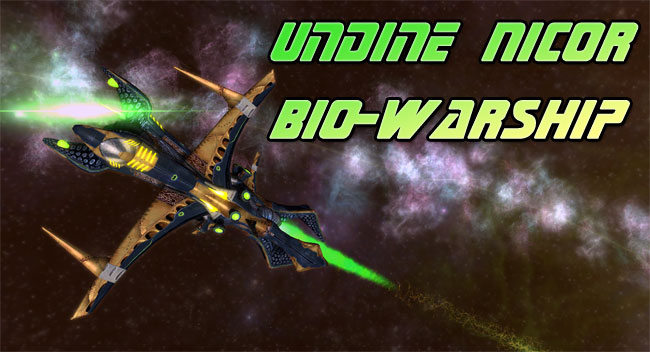 The introduction of the Undine to Star Trek Online also meant the addition of a few of their ships. Amid them, the Nicor Bio-Warship is a new lock box ship (STO: Season 9 Dev Blog #18) and the Dromias Bio-Cruiser is a lobi store vessel. This review will focus on the smaller, heavily-armed-but-durable Nicor.
Any STO captain looking for a fairly solid low-rent escort with cruiser durability with an exotic aesthetic should take a peek at the Nicor. As a ship, it packs a significant amount of firepower, has a hairpin-tight turning radius, and a fair amount of resilience in a firefight. The addition of a Death Star murderbeam doesn't hurt either.
Acquisition
As rare drop from the Undine lock box, the Nicor is either acquired through luck or by buying it from someone who had one drop. Right now the vessel runs around 150 million Energy …
Oh gods why did we do that?
So, we heard that the NBC comedy The Mysteries of Laura, a weird sort of comedy-slash-cop-show about a detective who is also a mother, would be running an episode that featured a killer who plays online games. The episode in question is S1E4 "The Mystery of the Sex Scandal."
The folks who write prime time TV drama shows rarely do a good job of portraying actual gamer culture or gaming in general so we did not go into this expecting much. Of course, it's a comedy so perhaps it could resonate with some actual subcultural research?
Of course not.
The online gaming portion of the show only actually opens up slightly over half-way through the entire episode and it's barely there.
It starts out with a lame, tired stereotype of a bunch of male geek gamers all drooling
…
There's an upcoming highly-3D MMO coming out from Alpha Entertainment Group – with an upcoming Kickstarter – called AlterVerse. GameOgre wrote up a small preview of what this game will entail, showed off a nice video, and talked a bit about the features. (Teleporting iPhone among them.) Hard to say much about something like The AlterVerse Project right now, but it might be worth taking a look. Go read up on it at GameOgre.
This one in from the MMO Anthropology show—this round they below up a Mt. Dew can, a Strippler memorial (that looks oddly like Krusty the Clown's hair from the Simpsons), and finally a Walmart.
via YouTube.
The Delta Quadrant of Star Trek: Voyager fame is coming to Star Trek Online with the upcoming expansion Star Trek Online: Delta Rising, which will release October 14, 2014. Cryptic Studios and Perfect World Entertainment has been teasing content from this expansion for months now with ever informative dev blogs describing a multitude of things.
For STO players content changes will include the introduction of the Delta Quadrant itself and the addition of the Kobali ground adventure zone. The mechanics of the game will change with Delta Alliance reputation—sporting fun stuff such as bio-neural gel packs and other Voyager references—a gear upgrade system, the introduction of Tier 6 ships, and a whole new hybrid-class called Intel ships.
The whole affair may yet prove to be a very interesting experience. We voces look forward to reviewing the experience.
Perfect World Entertainment and Cryptic Studio's D&D-based MMORPG Neverwinter Online has had dragons invading with the release of the Tyranny of Dragons expansion. Kyt Dotson from GameOgre has reviewed much of the content that came with the game and reports that it's pretty good. The expansion not only brings dragons (in full living, clawing color) but a campaign to defeat them, the Scourge Warlock class, as well as the Dragonborn race. Read more at GameOgre's coverage.
Almost twelve days ago a police officer in Ferguson, Missouri killed an unarmed black teenager named Michael Brown. The resulting protests by the local community against the police department went from tense to terrible after ever-escalating hostility of responses by the police and now is a leading national story of race politics and the mishandling of community-level first amendment rights.
It may have taken a while, but the story is finally getting into the media.
This means that the MMO community by now may have been impacted by the news. So how have video game players and MMO gamers been affected and what sort of opinion is forming? The answer is hard to frame because the MMO gaming community itself doesn't do politics and extends way beyond the borders of the United States.
There is no singular "MMO community" it is a global phenomenon of players who tend to …
The MMORPG World of Warcraft is coming up on its 10th anniversary and there have even been players (still playing) who started right at its onset. This interview, however, is with a player who started slightly more recently–only seven years. That said, seven years playing the same game means a lot of changes have been seen and a certain amount of cultural shift.
World of Warcraft has seen numerous expansions, the addition of races, classes, and even a dramatic change to the very map that the game is played on itself (see: Cataclysm) and even the addition of whole new maps (see: Outlands and Pandaria.)
The MMO Anthropology show has interviewed several players from the game including Nutmeg and Jason about the Time-lost Protodrake, Nutmeg about the cultural affects of issues on …
With Firefall's recent launch, it's a good time to check in with the people who live there and what they've been up to for the entire closed/open beta process. While this was recorded in February 2014, and the release was very recent, the thoughts and life of Nakiato in Firefall seem still quite relevant.
Other videos discussing events and mechanics in Firefall and their social impact include "Thumping: The Social Impact of Public Events in Firefall", and "Light of the Arc: A Fireworks Display in Firefall 2014".
via MMO Anthropology on YouTube.
Some insights into how Blacksmithing works in Elder Scrolls Online from StubbornBucket on YouTube.