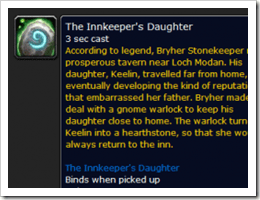 As you can see, I have an image from inside World of Warcraft and is one of the strange rewards from the archaeology secondary trade profession. If you can wait long enough to eventually pick it up from the ground.
I went and did a write up for Green Dragon Inn about my experience with it.
In abstract: it's too OCD for me.
Now, when archaeology actually got released into the game it came to me as a little bit of a disappointment. I expected to see another glyph-like system based around it, so-called "Paths of the Titans" at the time which filled me which much glee. The chance to find other ways of tweaking my characters both after they'd
…