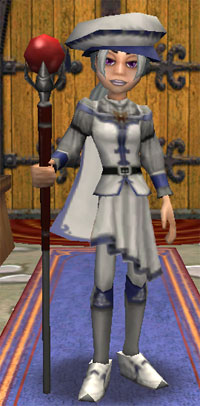 "Hello gathered ladies, gentlemen, and assorted mythological creatures. I am Iridian Stormshard, student of the Ice School of Wizardry, Protector of Wizard City—and all around coolest chick on the block."
At this point us voces would like to introduce you, the reader, to the naming method that Wizard 101 employs. Basically it's kind of like combination lock with three spinners. The first spinner chooses from about forty (40) first names, and the second two choose from forty (40) each prefix and postfix to create last names. The names are such that we have people with surnames like Shadowblood, Frogslinger, and Pixiepants running around. (Frogslinger is actually the name of one of our alternate toons.)
This certainly adds to the comical atmosphere of the game by producing an extremely formulaic identity for character names. It also seems like it would limit the total number of unique names quite considerably-although with this many combinations we haven't seen any duplicates crop up as yet and people are indeed pouring in from all angles.
The Ice School of Wizardry
Ice mages are something like the tanks of the Wizard 101 world. We are rough, tough, and ready for action. We come with a staggering array of shield spells, our clothing gives us a lot of health, and we can pull a variety of nasty snow critters from our sleeves that leave opponents frozen or dead. Expect snow beetles, frost worms, evil snowmen, and worse to be avalanching down when facing a wizard of our school.
Ignore the fact that our teacher is named Lydia Greyrose and looks like Merryweather from Disney's animated Sleeping Beauty. The might that can be learned from her is nothing to sniff at-although it may give the unwary the sniffles.
As with every school, ours has a tree who imparts wisdom and reflection on students rising through the ranks. Our tree is an icy individual named Kelvin. (Yes, little jokes like that literally pepper the game.) He is part of a grand lineage of trees that helped build the world, and when it was sundered, assisted with its re-coalescence into the strange formation as it exists today.
Ice magic is a slow building torrent of juggernaught fury-openings may be slow, but they involve protections, buffs and debuffs, but once the snowball gets going a well tuned ice magic deck is unstoppable. Many battles have forced opponents to slog through mountains of health, palisades of snowdrift defenses, only to be brought down by a Colossus in the end.
Expect to wear a lot of white.
Iridian gets complimented almost daily on her outfit.
Leave a Comment
Posted under
Reviews
,
KingsIsle Entertainment
,
MMORPG
,
Wizard 101
|
100 Comments
Like this article? Subscribe to our
RSS
feed