This is a thing that's happening: Raven Software designer Manveer Heir has offered to pay for your copy of Wolfenstein if it outsells Electronic Arts' Madden NFL 10 in August. While the final sales will be determined by NPD numbers, Heir does point out that anyone can be reimbursed worldwide.

"Keep your receipt," he writes.

Let's face it — this is a bit ridiculous. Even Heir himself says "it's not likely." As excited as we are for the game — Wolfenstein looks like it's shaping up to be a solid shooter — we don't expect it (or anything else for that matter) to outsell Madden NFL 10 in August. Or September. Possibly also October.
This one is for everyone who missed this one already, which is possibly very few people. Keep in mind that this will only affect people who bought the game during the month of August. Everyone else will be out of luck (because it will have ended then.) The game looks stunning and wonderful, so perhaps it might be worth just buying it to play.
The refund an unlikely, but amusing, incentive.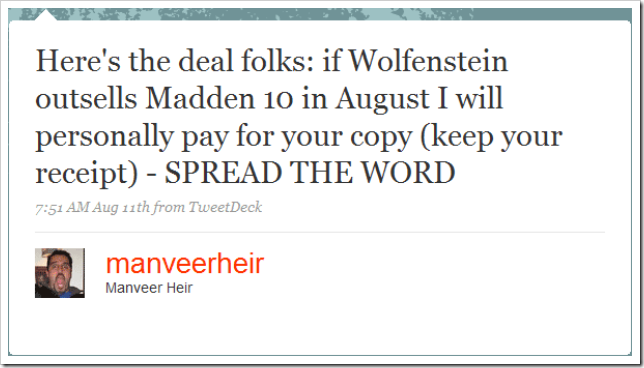 See http://twitter.com/manveerheir/status/3246400569, via Destructoid and Ars Technica.
Leave a Comment
Posted under
News
,
EA
,
Madden NFL 10
,
Raven Software
,
Twitter
|
Comment
Like this article? Subscribe to our
RSS
feed