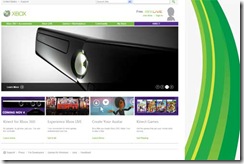 Visitors to Xbox.com early Wednesday morning were greeted by a waiting screen (under construction) as Xbox.com got themselves a facelift. Including a bridge between Xbox Live and Windows Phone 7 mobile gaming.
That particular portion of the highlights really caught me by surprise and it's something that I'd like to see more information about: what in Xbox Live can be played on the Windows Phone 7 as well as the Xbox? Certainly we're probably not going to see Windows Phone 7 Borderlands, but it would be curious to actually play web games through Xbox with distant friends tethered to their phone by circumstance.

Plus, these sorts of developments will allow a certain amount of extra interactivity between players, scheduling, and the like—they will be able to check in through their phones before appearing at home, or see that their friends are all huddled together in the same game from the interface.

Even before the advent of social gaming, video games have already proven to be an immersive social gathering experience; the addition of networking and greater external immersion we've seen video games become a totemic watercooler for many circles of friends. When a living room can become anything from the beach at Normandy or a distant alien shore; when your friends can live a thousand miles away yet still play the same game as if they're sitting on the couch next to you; that's where video game technology bridges gaps of time and distance between gamers of all stripes.
Link by Kit Dotson, via SiliconANGLE.
Leave a Comment
Posted under
News
,
Microsoft
,
SiliconANGLE
,
social gaming
,
Xbox Live
,
Xbox.com
|
1 Comment
Like this article? Subscribe to our
RSS
feed