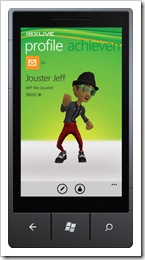 It's being played down a little at the moment, crushed under the unleashing of five new Windows Phone 7 handsets with the new OS on them; but there's an Xbox LIVE app out for the phones—and not for anything else. Of course, this makes sense because both the phone and Xbox are Microsoft products.
The current features of this app includes viewing your current avatar, gamerscore, and being able to take a look at what you're friends are up to at the moment; plus, there's the ability to send and receive messages from Xbox LIVE. You can also use it to view your library of games you can have on the phone, including Xbox LIVE-enabled titles; with this, people could use it to discover what they can use with Xbox LIVE and also discover new titles.
Really, what caught my attention about this app, happens to be the ability to send and receive messages with users on Xbox LIVE. Already a mainstay of communication with the typical parties who go into the gaming community and try to get together to play games like Left 4 Dead and Grant Theft Auto; but what really made me wonder: Xbox LIVE is well known for it's voice chat.
When can we expect an app for a Windows handset that will permit a connection via voice? I know a number of people who use the voice chat to keep in touch with friends, hang out idly, and otherwise shoot the breeze for part of the day. They do this by wandering around the house with the Xbox headset clipped to their ear, but it's still quite an engaging experience for them. When can we hit a button on our phone and dial into the same experience?
Now that'll separate the gamers from the weak.
Link, via SiliconANGLE via VentureBeat.
Leave a Comment
Posted under
News
,
SiliconANGLE
,
VentureBeat
,
Windows Phone 7
,
Xbox Live
|
1 Comment
Like this article? Subscribe to our
RSS
feed