Need to do some serious party gaming right now? Got fifteen friends and nowhere to go? Call in the GameTruck.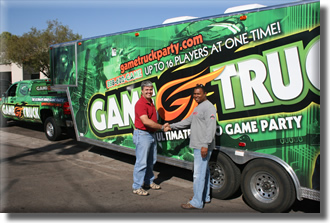 GameTruck recently came to our attention when they decided to expand their operations in Orange County, but we've been watching their local Tempe business for a while. What you have here is a trailer full of game consoles, plasma screen TVs, and enough hardware to run sixteen gaming stations at once. Climate controlled. Comfy seats. Not a bad idea, and apparently customers agree. The business has purchased multiple new trucks in Arizona and California, and has recently opened up franchise options for other states.
Of course, we here at Vox are old school gamers from the computer side of the species divide. The ability to roll in a truck full of 16 Wiis is insignificant next to the power of 100 geeks hauling around their computer rigs for a LAN party. Then again, the GameTruck does go away without getting drunk and trying to bum a night on your couch. Maybe you do get what you pay for.
Check out the GameTruck website here.
Leave a Comment
Posted under
News
,
Game Party
,
GameTruck
,
HALO Green
|
Comment
Like this article? Subscribe to our
RSS
feed