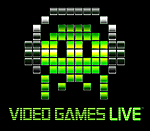 Game music is proving to be a powerful cultural force, the themes of our youth and now our social lives. At the vanguard of games-as-culture is Video Games Live, the world's largest video game orchestra. On October 13, the VGL orchestra will perform at the Shanghai Hongku Soccer Stadium in China. It will be their first performance in that country.
Game music is an interesting thing. These are the songs and sounds we grew up with, and now, that our children are learning. Where our own parents had the music of protest and cultures clashing, we carry the music of our entertainment. But while that may seem shallow, it can't be denied that game music is a strong cultural glue; just beatbox out the first new notes of the Super Mario Bros theme and damn near everyone of age won't just know the tune, they're likely to join in.
A consumer community? An entertainment generation? I don't know. But it's what we have, and that's the music we share. Now, and into the future.
Learn more about Video Games Live here.
Leave a Comment
Posted under
News
,
China
,
Game Music
,
Video Games Live
|
Comment
Like this article? Subscribe to our
RSS
feed