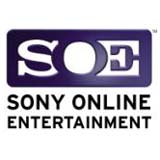 Sony Online Entertainment announced an up-and-coming title The Agency, for PC and PS3 recently at a conference and it is looking good. We just watched ourselves an absolutely delightful video at Gamespot.
A spy-themed MMO/First Person Shooter designed to enrapt the imaginations of Bond and Alias fans everywhere with cranked action cut between the hard-edged gunfire and grenades of mercenaries and the soft-curves of wet-op espionage and shadowplay. While some of the mechanics look a bit silly on the surface, "Perhaps even more important than The Agency's gadgets and weapons will be your choice of attire, since the game employs an intriguing 'you are what you wear' class system. Simply by changing your outfit you'll be able to switch between stealth, combat, and support roles." Can we say: variation on pretty-princess-dress-me-up?
Us voces for some are looking forward to falling between the rotating blades of a crashing helicopter, to rescue our friend from the cockpit, just in time to leap free onto a nearby building before the wounded whirlybird goes down in a fireball of twisted metal and human wreckage… See you there, kiddos.

Read the full article on the whole affair over at Gamespot.
Leave a Comment