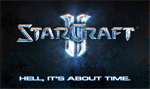 It's not just official: it's very official. Star Craft 2 has come down the pipes in such a media blitz that most gaming sites are frazzled and confused, a lot like they've been hit by lightning.
It all begins with a large convention, somewhere in Korea, and a 22-minute long  developer panel about the game. They have already released a trailer displaying a terran space marine and another official trailer with a bunch of beautiful artwork. And, of course, if anyone wanted to see the Protoss unquitely singleton Mothership unit in action…
Gamespot is running a huge article on that very Q&A session that happened in Seoul.
As this whole event unfurls itself, we will undoubtedly be bringing everyone more Blizzard fun and developments as they crop up.
Leave a Comment