It's been almost an hour now, but the Guild Wars 2 US servers suffered an issue that caused login to fail—for those who happened to be online at the time the error was somewhat stunning.
It paraphrases to thus: Your trial version of Guild Wars 2 has expired!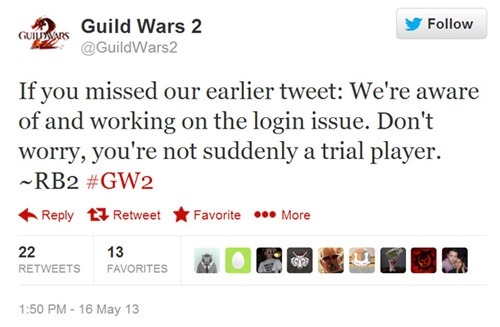 For those concerned about this error, don't worry, your account has not suddenly been turned into a trial account—GW2 is just having issues with their server room hamsters and is working on the problem. The latest tweets out of the @GuildWars2 Twitter account are keeping us up to date…but the natives are getting restless.
We've had this happen before (although to a lesser extent) and it was resolved fairly quickly.
However, now that the down time has been going on for more than an hour—approaching two as I type this post—there might be other repercussions from the failure.
We will try to keep you updated.
UPDATE 16 May 2013 3:30pm PST: The login servers appear to have been fixed and it is possible to log into GW2 once again.
Leave a Comment
Posted under
News
,
Guild Wars 2
,
MMO
|
Comment
Like this article? Subscribe to our
RSS
feed