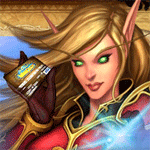 Blizzard Entertainment has taken a very strange step today and taken the plunge with First National Bank in order to release a World of Warcraft Visa card.
Available are thirteen different art designs for the cards themselves ranging from the salacious Night Elves to the grim Fosaken. (Of course, as eveyone knows, us of the sanguine vox prefer the Blood Elves.)
The most amusing thing about this Visa card is that purchaces don't simply create "points" or miles or something similar—they credit back game time. Which means the more you buy with it; the more hours get credited to your account. And if that weren't enough incentive, the card gives a free month upon the first use.
From Gamespot's coverage:
Much like the credit cards that offer frequent flyer miles for each dollar's worth of purchases, the new WOW Visa will give players of the MMORPG free play time for their consumption with the card. After receiving a free month of WOW for their initial purchase, players will receive "game time at the rate of 1 percent of every dollar in qualifying purchases." That means for each $1 spent on their WOW Visas, players will get $0.01 credit toward their $14.99 monthly subscription fee. Rewards are awarded through a points system.
Too bad there aren't any good looking Blood Elf designs on the cards…
Leave a Comment