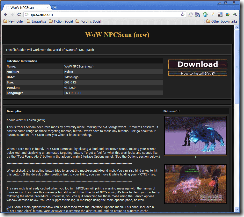 There's a lot of incentive for bad guys out there to get your information in World of Warcraft: to hack your account, liquidate all of your epics and rares, and pour all the gold generated into a gold farmer account. To this end, there are phishing scams, worms, and viruses that specifically target World of Warcraft players and we at Vox Ex Machina believe that've found one.
The name of the site is npcscan.com. It pretends to have a version of _NPCScan—a specialized addon for aiding in the finding of rare spawns for hunters, the [Northern Exposure] and [Frostbitten] achievements. When you visit the site it displays the information from the addon taken from the various distributors along with a bug fixes list; however, the truth stops there when it wants you to download a file: NPCScan(new).exe.
Never download and install unknown executable addon files! Especially when World of Warcraft addons are not executables. When we downloaded the file our virus scanner immediately detected it and quarantined it as a potential Trojan—which removed all doubts in our mind that this site is a scam. Be warned.
If you want the proper version of _NPCScan you should get it from a reputable and well-known source like Curse.com or WoWInterface.com and, of course, always run with the latest profiles for your virus scanner at all times.
These sorts of scams lead to a great deal of misery and sorrow in the World of Warcraft gaming community and we'd like to see less of that. Gold farmers who employ these tactics continue to be a particular type of scum that we wouldn't deign to scrape off our boots.
Stay safe out there.
Leave a Comment
Posted under
News
,
Addons
,
keylogger
,
malware
,
scam
,
virus
,
World of Warcraft
,
worm
|
Comment
Like this article? Subscribe to our
RSS
feed