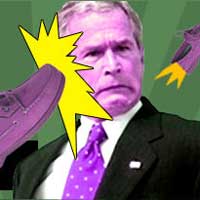 In a matter of just four days by way of eBay auction.
This all took hold as an Internet fad when an Iraqi journalist, Muntadar al-Zaidi, lobbed his shoes at US President Bush during a press conference. The poor man has been arrested and reports have it that he has been beaten multipule times by his captors—however, his martyrdom for the Internet has not faded in the least.
Multiple animated GIFs cropped up within twenty-four hours of his arrest and still proliferate on websites.

And now his legacy has brought another light into the strange darkness of brutal opression with this Flash game. You can play Sock and Awe right now and pummel Bush's face with footwear.
An unnamed British company bought the game for £5,215 ($7,818.)
What Tew called a "stupid little flash game" started getting millions of hits, threatening to overload the servers for a new humor site Tew is building.

"We've spent the last three days trying to keep the servers alive and we're meant to be working on our other main startup PopJam. So we whacked it on eBay," he said.

"It's really cool. From Monday concept, Tuesday launch, Wednesday growth, we've had a Thursday exit — so it's kind of a micro-Web start up if you like," said Tew, adding that the funds would go into his company.
Link, via Reuters
Leave a Comment
Posted under
News
,
bush
,
Flash
,
iraq
,
Muntadar al-Zaidi
,
shoe throwing
|
Comment
Like this article? Subscribe to our
RSS
feed