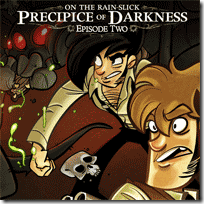 "Episode two? More like…awesomeode 2!"
It's been almost a year since this little iridescent title was announced, whereupon the release of the first episode titillated us all, and now Fall is nearly upon us and according to our calendars it should be around the corner.
To the time-machine! Chris Kohler over at Wired.com reports in September, 2008, "Penny Arcade Adventures Episode 2 is no mere iteration on the original. There are some significant improvements. In fact, it seems as if most of the things that disappointed me about the first episode are being worked on. They're making the battles more difficult, and even adding additional difficulty modes if you want a tougher challenge. And the developers promise more item-based, point-and-click style puzzles to break up the action. Combine that with even more of the carefully-written humor and clever RPG battles that made the first game fun, and Episode 2 could be a significant step up."
The first game felt astonishingly amusing. The humor crass, the characters memorable, the Fruit F…F… Well, the robot that liked to do vulgar things to fruit certainly managed to make us wince more than once at least, especially because fresh oranges proved to be an excellent distraction against them.
Finally, there's simply was no turning back from the Chthonic horror that Gabe and Tycho actually managed to weave into the storyline. For anyone who hasn't played Episode One, we heartily direct everyone to go do so now before Episode Two is released.
Enjoy the trailer.
Episode Two: Key Game Features

The madcap Penny Arcade experience continues. Meet all-new characters from Mike Krahulik, see newly revealed strip favorites and read laugh-out-loud dialogue from Jerry Holkins.
Go crazy with a whole new level of customization. Even more options for you to design and develop your own character, seeing it come to life in 3D and in the comic-style 2D cut scenes.
Play it safe or go insane! New difficulty settings put you in charge of the action.
A deeper RPG-Adventure experience. Get into the game with more puzzles, areas to explore and levels to gain.
Link, via Rainslick.com.
Leave a Comment
Posted under
News
,
Penny Arcade
|
Comment
Like this article? Subscribe to our
RSS
feed