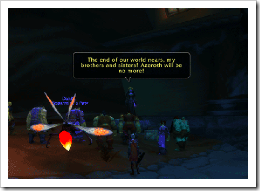 It's been a rather dry week for video game news, but we here at Vox Ex Machina would like to tell our users about an excellent little podcast and blog: The Green Dragon Inn.
A recently published article over there (written by Kyt Dotson) outlines the extent of a cult infiltrating the major cities of Azeroth and the sinister force behind the cultists. Also, as Cataclysm approaches, random elemental manifestations are invading.
Green Dragon Inn also has a podcast, their most recent #17 "Forsaken World" just published with discussions about that MMO's closed beta.
Link, via Green Dragon Inn.
Leave a Comment
Posted under
News
,
Cataclysm
,
Green Dragon Inn
,
Podcast
,
World of Warcraft
|
Comment
Like this article? Subscribe to our
RSS
feed