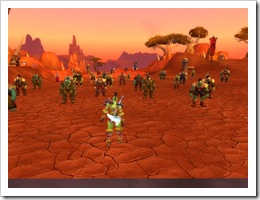 With a cult infiltrating the streets of Orgrimmar the establishment has gotten somewhat antsy and implemented harsh measures. Long queues have appeared in front of the city as commoners and warriors-alike are searched by our heroes to make sure they're not carrying—papers.
Intrepid in-game reporter Kyt Dotson goes forth and gives a description of the newest changes to the Orgrimmar streets over at the Green Dragon Inn.
As the days count down and terrors close in on all sides, what will become of Azeroth if we give up our liberty for temporary security?
Link, via The Green Dragon Inn.
Leave a Comment
Posted under
News
,
Cataclysm
,
Green Dragon Inn
,
World of Warcraft
|
Comment
Like this article? Subscribe to our
RSS
feed