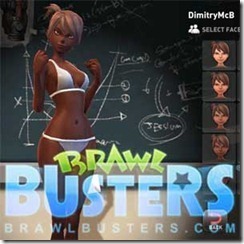 The closed beta for this new creation by Rock Hippo started last week on August 11th and if you want to get your key, you should visit the GameOgre thread on the subject.
Grab your electric guitar, your football helmet, baseball bat, fire hose, or boxing gloves: Brawl Busters is on its way from Rock Hippo Productions and Weezor! In this smash action title, the production house that brought us MicroVolts will bring us a brawl-action combat free-to-play MMO game that will operate from the third-person-shooter angle bring a little bit of Team Fortress to a wacky class system of brawlers. Developed by SkeinGlobe, Brawl Busters has a look and feel reminiscent of MicroVolts but the gameplay diverges from there.

Why should you know about this? Because the closed beta test is coming August 11th and you won't want to miss it.

The game introduces a class system similar to Team Fortress as each player will have access to only one of each classification of fighter; but will be able to level, outfit, customize, and enhance them individually. Accessible through the player's locker, we'll be able to choose between five classes, called Busters: Firefighter, Rocker, Boxer, Blitzer, and Slugger.
I was invited to a round-table discussion about the game and I have to say, they delighted me with the development angle and how it functions.
If you've got yourself a beta key, and you're looking for someone to play with, lend me a message here on Vox ex Machina. I'm in the game.
Link, via GameOgre; Beta Key Giveaway link, via Gameogre.
Leave a Comment