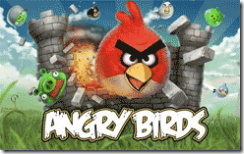 Just over the wires from SiliconANGLE, EA has acquired Chillingo, the publisher of Angry Birds. Bit of a note, however, they did not acquire, Rovio, the developer of the popular fowl flinging puzzle game.
It looks like Electronic Arts just slingshot an angry red bird across the landscape and toppled the obstacles between them and Chillingo. I refer, of course, to the extremely famous mobile phone game Angry Birds, a casual puzzle game that involves the flinging of enraged ballistic avians at all manner of fortification and fauna. It appears that the deal went down for less than $20 million.

According to the LA Times's Company Town blog, an EA spokesperson, Holly Rockwood, confirmed the acquisition but not the amount of the buy.
So, get your enraged avian slinging gloves on, people, EA will hopefully keep bringing them to us for a time to come.
Link by Kit Dotson, via SiliconANGLE.
Leave a Comment
Posted under
News
,
Chillingo
,
Electronic Arts
,
Rovio
,
SiliconANGLE
|
Comment
Like this article? Subscribe to our
RSS
feed