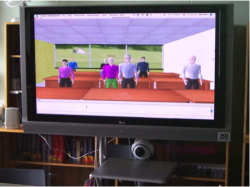 One of the greatest powers of our teleconnected age is the ability to reach out and do good work from anywhere to anywhere. Telecommuting, it's called. Virtual reality adds the power to actually be there without being there. The city of Boston is mulling over a charter school built around virtual reality and telecommunications technology.
The school is designed to host those students who can't show up at a regular classroom, either because of distance, illness, or incarceration. Yeah, those prison kids need an education too.
Hypergrid Business has the story.
Leave a Comment
Posted under
News
,
Boston
,
Charter Schools
,
Virtual Reality
|
Comment
Like this article? Subscribe to our
RSS
feed