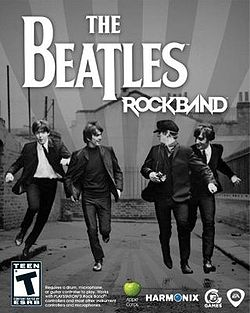 I can safely say there is an end to the wasteland desert that was gaming these past months, as a cool ocean breeze wafts in from the coast. New titles have arrived on sailing ships from lands afar; Madden, Batman, and soon, the Beatles. Combined with price cuts on the Xbox 360 and PS3, gaming is set to surge ahead as the top consumer of our time, outpacing family, friends, and religion by a wide margin.
Beatles: Rock Band is an interesting title. The Beatles are, of course, the most powerful and moneymaking band in history. But the audience for this upcoming title, by and large, wasn't even born yet when Yoko broke up the Beatles. It's an open question if Our Gaming Generation will respond to a band they've never known, from an era they have no connection to.
Viacom, ultimate corporate puppetmaster of MTV Games, who published Beatle: Rock Band, has wagered a hefty sum on the game's success. Not only did they pay 10-million human dollars in royalties to secure the songs from the Beatles rights holders, but they dealed to send out up to 40-million depending on sales. That's some confidence.
The LA Times has more on this story. Plus, a picture of what two Beatles might look like.
Leave a Comment