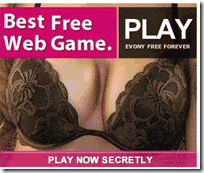 An anonymous reader named Angry Porn Addict decided to throw this one our way via the contact form on the site regarding the advertising scheme for the new play-in-your-browser MMO game Evony Online. While there are a lot of strange things to say about Evony Online's marketing behavior—but how it is affecting the porn market? Enjoy?
I want my titties. NOW.
I clicked on this ad, and all I got was this lousy game.
And I didn't even get a t-shirt.
I signed up for this game, and continued playing, in the hopes that reaching a higher level would award me with… what lies beneath the lacy bra. But guess what I get instead!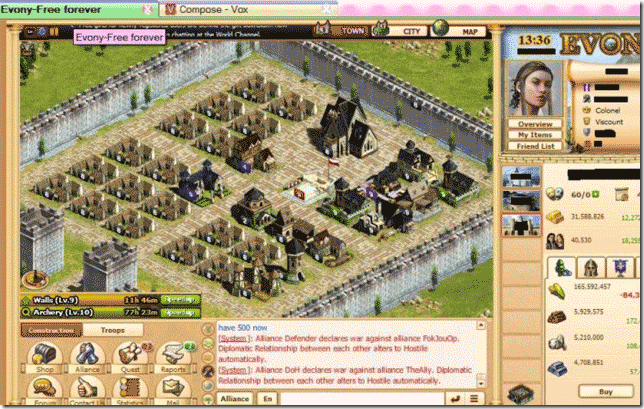 Houses, stats, and one face.
More creative guys might be able to get off on that – numbers or masonry fetishes – but I'm a simple guy. All I want is a little nakedness.
Where are my boobies?!
They advertised boobies – and not the blue-footed ones, either. I mean boobies as in plump, round, popping-out-of-the-bra boobies. Hooters. Cans. Bazoombas. Gagas. Yard Dogs. Blouse Bunnies. See?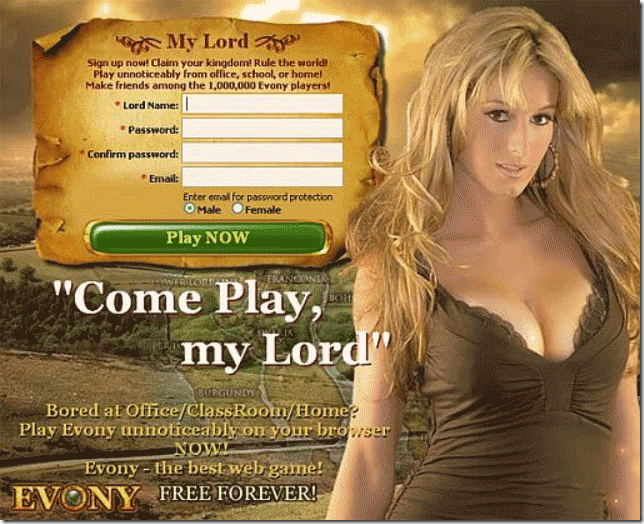 This, my friends, is false advertising.
I can't even build strip joints. Or second-life-style phallic towers. The stupid medieval houses aren't the least bit sexy, and there are no wenches to be had. I didn't even get to see people walking around – for all I can see, the buildings are all empty. Even the thumbnail images with people in them are only seen from the shoulders up, so if they were naked, I'd never be able to see their honkers anyway. And I couldn't even get anyone to take me up on cybersex offers.
And here, I thought I could spice up my life a little by playing for porn. Adds a little adventure, ya know? Except I never got what I was playing for. I just got what I was paying for. No wonder it's free.
Leave a Comment
Posted under
News
,
advertising
,
pornography
|
1 Comment
Like this article? Subscribe to our
RSS
feed