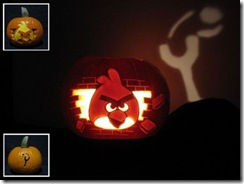 Continuing our spree of Halloween video-game themed jack-o'-lanterns we've come across yet another interesting—and must we say, amazing, pumpkin carving. This one comes from a Tumblr blog.
The engineering put into this carving speaks volumes about the talent of the artist. Not only does it show an enraged avian shattering a brick wall on the front; but a slingshot cut out of the back allows it to cast an image on the wall behind. This shows us, in the distance of that candle's glow, how far our furious foul has flung to smash through our pumpkin. We're stunned beyond words at this one. It's just that awesome.
Bravo!
The other two jack-o'-lanterns posted recently have been an 8-bit space invader and a Plants vs Zombies tribute.
Link, via Social Spew.
Leave a Comment
Posted under
News
,
Angry Birds
,
jackolantern
,
Social Spew
|
Comment
Like this article? Subscribe to our
RSS
feed