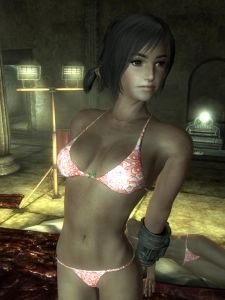 Bethesda has finally released the dev tools for Fallout 3, the Garden of Eden Creation Kit, or GECK. The name takes us back to the heady days of Fallout 2, while the tools themselves take us into a future filled with pornomachina. It's one of the cardinal rules of such things that if you give people vast powers of creation the first thing they'll do is strap huge cocks over everything. Once that's run its course, the more productive among the unruly masses will buckle down and get to cranking out the porn.
The GECK has been available for a bit over a week now, so the first faltering attempts at Fallout 3 nude patches and clothing swaps have been replaced by a more skillful selection of nude patches and sexy mods. So let's get started then, shall we?
First of the clothing rack, there's this pair of cute little undies. Ever wanted the Vault Boy on your backside? It's a retexture of another mod, the link to that is included. Here you go. How about a topless corset? Try these on, in a selection of colours. There's also this charming disarmed slave collar for you to wear, which I for one think is the perfect touch for any outfit.
You'll also want to grab an old favourite, the nude painspike armour. Just begging for an adjustment, really. Speaking of adjustments, this here underwear pack also makes your character's boobs bigger. Goes from B-cups all the way up to double-D. Rather nice. You can't just go around in your underwear all the time, though. That's why you'll need this sexy sleepwear collection to help get you through the night. This sleepwear armour patch adds an impressive armour rating to your sexy threads so you won't feel so unprotected out in the big bad world.
Now, if you want to get everyone else around the wasteland into a special something, try this wasteland sexy clothing mod that modifies ordinary NPC outfits into properly tasteless versions. This nude Fallout 3 armour mod will spread the joy to those NPCs who foolishly insist on wearing bulky armour in your presence. You might also want to try this sexy armour mod as well.
There are also a slew of mod packs to improve the looks of those NPCs and your own characters. Why not start off with this eye mod to put some colour in those windows to the soul? You'll also want to work on the bodies out there, since the standard model leaves alot to be desired. Try this female body replacer to strip the underwear off those raider girls. To put some variety into the wasteland honeys, take a look at this racial face replacer pack. It includes bodies, too, but works best with other better body mods. Such as this one, the Malos nude body replacer. Seems popular, many other mods are designed to work with it.
But let us get down to the serious brass tacks. With a dev editor in the community's sweaty and shaking hands, there's no reason to stop at simple texture swaps and replacements. Here is the real meat, the cool stuff people have done to make the wasteland a true paradise of pornomachina.
Like, say, strippers. Throw on this exotic dancer mod to add some dancing lovelies to Megaton. You might also like this animation pack with new dances and poses. If you need some dancers of your own, why, there's a new mod for purchasable slaves, which should come in handy, especially with the Slaves Stick Around mod. You have to put all those new friends somewhere, so why not this personal vault designed to work with your companions?
As always, we'll keep you updated on the latest Fallout 3 nude mods to hit the scene as they appear in the wild. Happy trails, vault dwellers!
Visit our main page for daily news, videos, and commentary.
Leave a Comment
Posted under
Mods and Patches
,
Bethesda
,
Fallout 3
,
GECK
,
Nude Mod
|
18 Comments
Like this article? Subscribe to our
RSS
feed