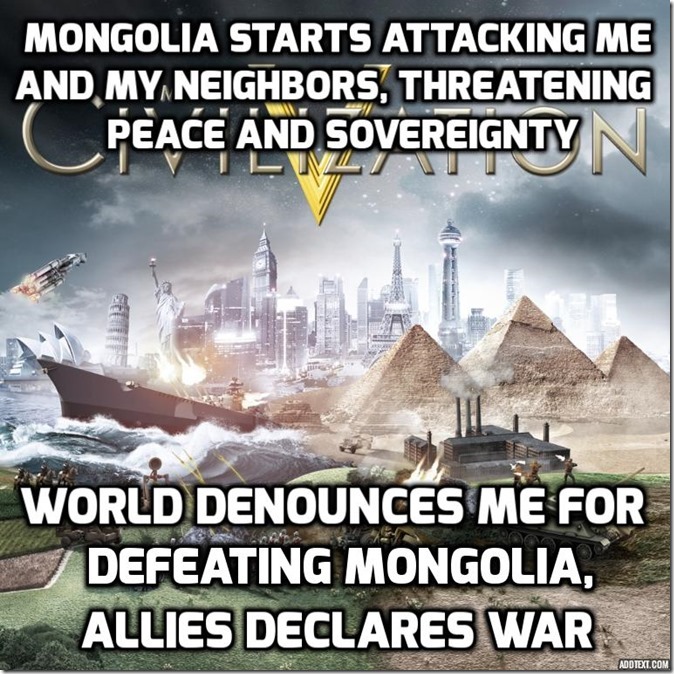 Civ V is just one of those games that's always getting under gamers' skins—while at the same time being one of the best things to play to keep those brain cells firing. Brought to Meme Monday, as usual, via Reddit.
Indeed. I love that smiling face. Brought to you, as usual, via Reddit.
Nothing else need be said. Brought to you via Reddit.
Perhaps you've met her before, but Charles Phipps sees a different side to our vuclan admiral of Starfleet in Star Trek Online.
WARNING: Minor Federation storyline spoilers ahead.
Admiral T'nae a.k.a Admiral Ripper.
No, seriously, this woman is the most violent and insane person ever to wear a Starfleet uniform (including Kathryn Janeway)! The fact she's a Vulcan, blandly pleasant, and stately only makes her raging psychopathia all the more intriguing to watch unfold. Thanks to her, by the end of the Romulan front, your character has probably done more covert operations than the Call of Duty: Modern Warfare protagonists. I feel for the Romulans, really, because I can't imagine them recovering for at least a generation after the iron fist of Admiral Ripper comes down on them.
The humor only goes on and on, for those who are wondering what dark thoughts must lurk in the logical mind of the fridge-horror …
By now, most of our readers probably know about us voces fascination with 2D Boy's game World of Goo. Which is a rip-roaringly fun puzzle game involving little blobs of goo, off in the world, trying to discover their purpose in life. Even if they don't know that they're delicious.
The discovery, however, is unsurprising, but amusing. This comes from user SushiGummy on Reddit. Who, after downloading World of Goo, discovered something oddly dirty about the installation process.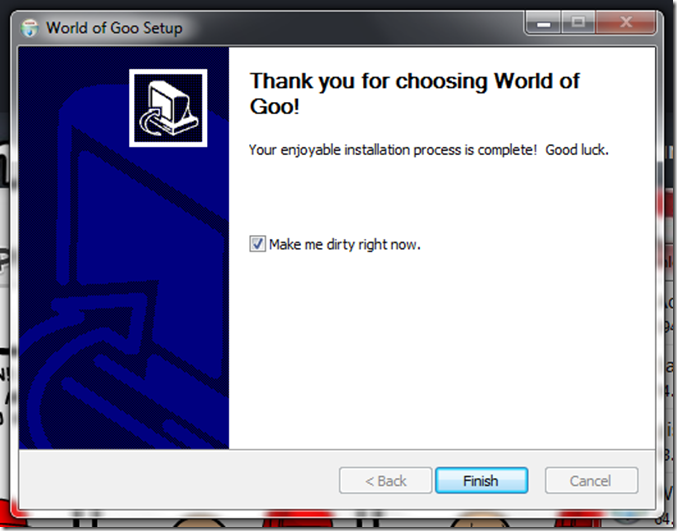 Link, via Reddit.