Titanfall, Respawn Entertainment's new first person shooter with an amazing twist, has been out for more than two weeks and already there's cheaters. Of course, Respawn is using anti-cheat technology (which to us voces can sometimes be controversial in practice) and that technology is bearing fruit.
The first wave of bans has gone out, hammering cheaters where they live. So much so that Respawn has published a useful FAQ for people who might have been caught up in the sweep.
Titanfall uses GameBlocks, FairFight to detect cheaters on PC. Since the launch of Titanfall, we've been collecting data on people who are cheating on PC but not immediately enforcing bans. As of Friday, March 21st, that has changed and we have started banning cheaters in Titanfall.
We will be continuing to tweak the algorithm over time to catch more cheaters.
However, bans in Titanfall are not like bans in other games. In fact, people …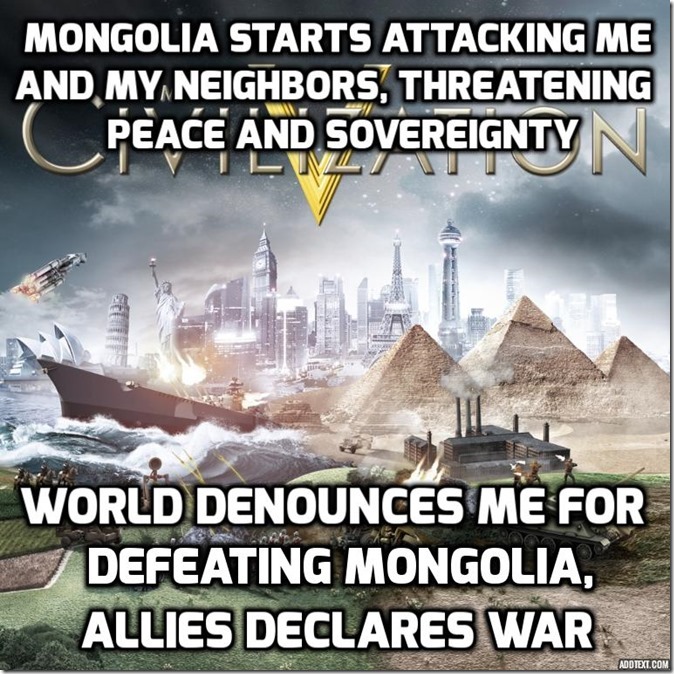 Civ V is just one of those games that's always getting under gamers' skins—while at the same time being one of the best things to play to keep those brain cells firing. Brought to Meme Monday, as usual, via Reddit.
MyDream Software Inc. just kicked off their kickstarter for a voxel-based sandbox MMORPG designed to capture the imagination of players. The Kickstarter campaign seeks $100,000 by Saturday, April 12, 2014. The game, described as "part geocaching, part MMORPG, and part user generated builder game," is built such that the world will be a different place every time players log in. And players will have a huge amount of control over how that world develops. For more information on this project check out this article on SiliconANGLE by Kyt Dotson and visit the MyDream Kickstarter page.
Indeed. I love that smiling face. Brought to you, as usual, via Reddit.
Cryptic Studios's science fiction MMO Star Trek Online offers players the opportunity to become a captain in a universe filled with aliens, diplomacy, and a decades-thick work of genre fiction beginning in 1966 and still continuing until today. So it's no surprise that players take to the game to seek the full extent of their impression. This MMO Anthropology interview published recently is featured in an article by Kyt Dotson at SiliconANGLE where you can read more about this phenomenon.
With the addition of The Legacy of Romulus in Star Trek Online also meant the addition of space bunnies–and by this we mean the epohh. These little critters are a fuzzy, moth-bunny that for some reason the New Romulan Alliance finds so extremely adorable that they're willing to part with high-end military equipment for people who domesticate them. As a result, STO players find themselves raising them and then turning them in for reputation with a space-faring industrial superpower. If you're interested in the process of farming epohhs for Romulan Marks, read up on the beginning of the experience as written by author Kyt Dotson.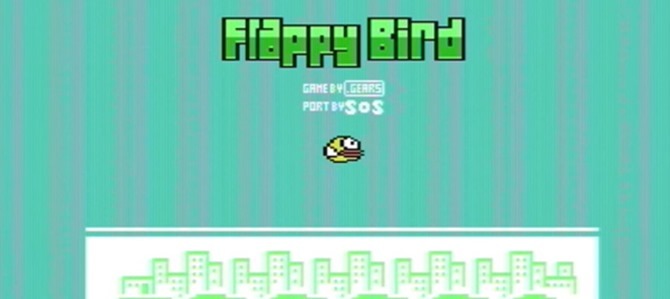 It's been almost a month since Flappy Bird was pulled from mobile app stores by Vietnamese developer Dong Nguyen—it was taken down on Feb 9, 2014–and since then hundreds of clones have sprung up to take its place (some malware, some amusing, some terrible.) The game's popularity seemed to come out of nowhere, bad graphics, extremely simple gameplay, thoroughly challenging. The surprise out-of-nowhere indie game hit made for a look at gaming phenomena that has sent experts in the industry reeling. To see more about the impact of Flappy, head over to GameOgre and read about its clones and impact written by Kyt Dotson.
In what can only be the next milestone of yet-another-masterstroke, indie sensation Minecraft has exceeded 100 million registered users with more than 14 million paid users. To top this off, version 1.7,5 is being planned and hyped–with Minecraft Realms being part of that package. As well, a movie is somewhere in the works. Every year, this sandbox block-based game has continued to gain the spotlight. If you're interested, read more from Saroj Kar at SiliconANGLE.
The interesting crowd-driven social experiment, Twitch Plays Pokemon, has finally completed Pokemon Red. In watching the series, the crowd managed to overcome numerous obstacles—including trees, intersections, and other easy-to-navigate UI elements that would be simple if Twitch Plays Pokemon wasn't essentially hundreds of separate personalities not necessarily working together. Now that Pokemon Red has been finished, the experiment's developer intends to start another project soon. Read up on it in this article by Saroj Kar over at SiliconANGLE.
Nothing else need be said. Brought to you via Reddit.