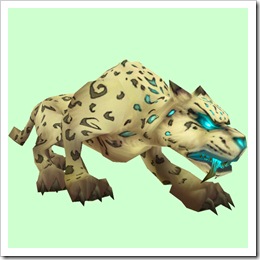 This Spirit Beast was added to World of Warcraft during Wrath of the Lich King and quickly became one of the most sought after hunter pets in the entire game. He's a beautiful, giant leopard spawning in Sholazar Basin who looks like he must have accidentally inhaled a will-o-the-wisp; this is possibly because he's related to the loa, specifically he's the mate of Har'koa, the loa leopard goddess in Zul'Drak.
A particular mythology has grown up around the hunk for Loque'nahak; but I'm not here to dispel any of those notions, but to attempt to best compile them into a resource that people can use when seeking this beautiful pet.
There are 7 known spawn points for the cat across Sholazar Basin (see map); The spirit beast spawns and lasts only 10 minutes at a time maximum (if not killed or tamed); He's on a 6-hour spawn timer—although this is complicated by a 3 rares in Northrend limit giving it the possibility of being 8 or 12-hours as well; It is believed that he shares a spawn timer with King Krush and Aotona (although there's enough evidence this may not be the case); Do not try to capture him until you can fly in Northrend, flight is too important for the hunt to miss out; Set your hearth to Nessingwary's Camp so that if someone spots him in the zone you can jump to the center and then get to him as quickly as possible; Recruit friends as often as possible and spread them across the zone; in fact, if you can get other people in the zone to help you look by chatting them up it might help; Get an addon like _NPCScan or Rarefinder and install it; this will allow you to go about your business (grinding, questing, camping, patrolling) without having to constantly mash a search macro button.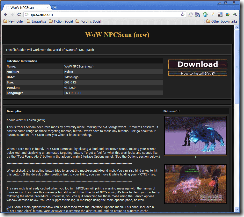 There's a lot of incentive for bad guys out there to get your information in World of Warcraft: to hack your account, liquidate all of your epics and rares, and pour all the gold generated into a gold farmer account. To this end, there are phishing scams, worms, and viruses that specifically target World of Warcraft players and we at Vox Ex Machina believe that've found one.
The name of the site is npcscan.com. It pretends to have a version of _NPCScan—a specialized addon for aiding in the finding of rare spawns for hunters, the [Northern Exposure] and [Frostbitten] achievements. When you visit the site it displays the information from the addon taken from the various distributors along with a bug fixes list; however, the truth stops there when it wants you to download a file: NPCScan(new).exe.
Never download and install unknown executable addon files! Especially when World of Warcraft addons are not executables. When we downloaded the file our virus scanner immediately detected it and quarantined it as a potential Trojan—which removed all doubts in our mind that this site is a scam. Be warned.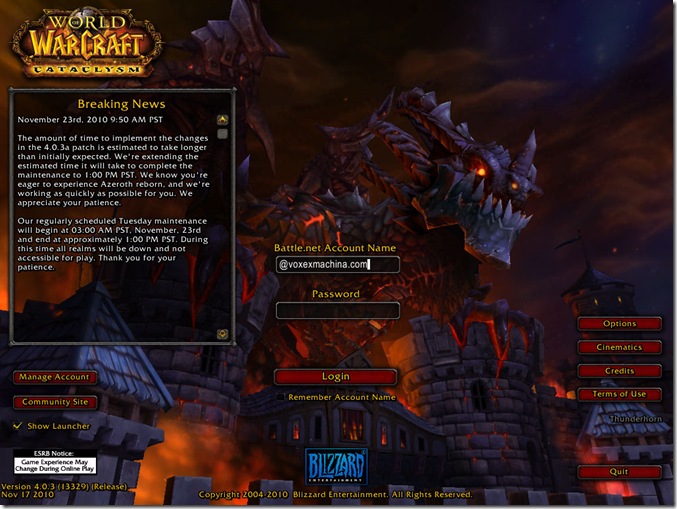 Like many, we voces are now staring at the new loading screen for World of Warcraft as The Shattering—the sundering of the land under Deathwing's wrath as he tears Azeroth a new one–runs its course over the severs. The opening cinematic plays with a thunderous roar and our favorite black dragon grumbles and complains morbidly in a voice that is pure Metal.
So, what can we say, epic iron-jawed dragon is epic. We'll be around shortly for more news on how The Shattering has affected the land; however, we suspect at first there will be a great deal of server instability as players pour through the newly opened gates in order to run around to look at what catastrophe hath wrought.
Update: As everyone can see looking
…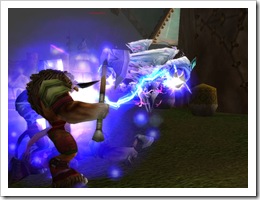 These are the last words heard from courageous in-game reporter Kyt Dotson yesterday as elementals invaded Orgrimmar and Thunder Bluff. The prelude to the horrible devastation now rampaging across the land. The earth heaves, the seas boil, and other sundry misery casts down upon the landscape during this time of troubles.
To see the last report before the lands upheaval tore even the servers asunder go to the Green Dragon Inn for the update.
Also might include a Thunder Bluff BBQ recipe never before seen by non taurens.
Link, via The Green Dragon Inn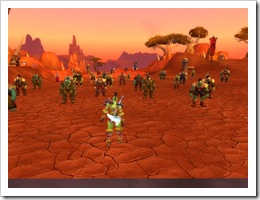 With a cult infiltrating the streets of Orgrimmar the establishment has gotten somewhat antsy and implemented harsh measures. Long queues have appeared in front of the city as commoners and warriors-alike are searched by our heroes to make sure they're not carrying—papers.
Intrepid in-game reporter Kyt Dotson goes forth and gives a description of the newest changes to the Orgrimmar streets over at the Green Dragon Inn.
As the days count down and terrors close in on all sides, what will become of Azeroth if we give up our liberty for temporary security?
Link, via The Green Dragon Inn.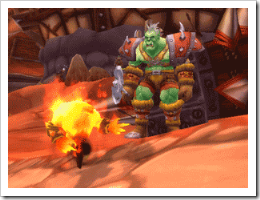 It's that time of the week again: Friday. And I'm going to roll up all of the various posts that have been provided by our wonderful authors on other blogs. In this case, that's going to be our new favorite video game blog, The Green Dragon Inn.
This week, the prologue to Cataclysm continues and Azeroth in-the-trenches reporter Kyt Dotson has taken to the streets of Azeroth with a broom and dustpan in order to sweep up some tiny, tiny fire elementals that seem to have gotten a little bit out of hand. Those little bastards do seem fairly agitated, don't they?
At the same time, a very large Twilight's Hammer cultist appeared on a dragon outside of the city and tried
…

Nemesis Games announced the development of their new MMO, Gargantua, in August of 2009. The game is a 2D tile-based map game where players will control giant monsters rampaging across the Earth, destroying cities, eating nuclear power plants, and terrorizing countries. We interviewed Jeff Dee, President of Nemesis Games, about their upcoming release and are happy to present his passion to our readers.
The game begins on a fateful day when Earth is invaded by aliens: the Yrions.
"There is a narrative behind the game overall: the evil alien Yrions have created you (or awakened you from your ancient slumber), along with all of the other giant monsters, for the purpose of softening up Earth's defenses in preparation for invasion," Jeff Dee explains. "But once
…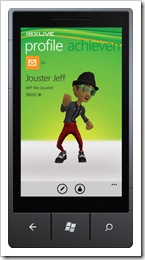 It's being played down a little at the moment, crushed under the unleashing of five new Windows Phone 7 handsets with the new OS on them; but there's an Xbox LIVE app out for the phones—and not for anything else. Of course, this makes sense because both the phone and Xbox are Microsoft products.
The current features of this app includes viewing your current avatar, gamerscore, and being able to take a look at what you're friends are up to at the moment; plus, there's the ability to send and receive messages from Xbox LIVE. You can also use it to view your library of games you can have on the phone, including Xbox LIVE-enabled titles; with this, people could use it to discover what
…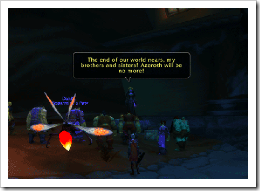 It's been a rather dry week for video game news, but we here at Vox Ex Machina would like to tell our users about an excellent little podcast and blog: The Green Dragon Inn.
A recently published article over there (written by Kyt Dotson) outlines the extent of a cult infiltrating the major cities of Azeroth and the sinister force behind the cultists. Also, as Cataclysm approaches, random elemental manifestations are invading.
Green Dragon Inn also has a podcast, their most recent #17 "Forsaken World" just published with discussions about that MMO's closed beta.
…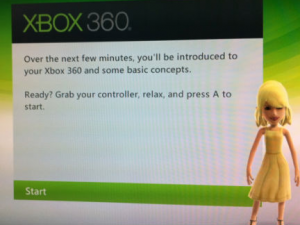 Well time again for another Xbox LIVE update!  To stop all the modders for a while from getting online and ruining our fun. As well as trying out a new layout that will hopefully stick around and be loved by the Xbox community! Something that the PS3 and Wii don't do as often but I am sure that they could benefit somewhat if they did more often! The choice is theirs, though I can't complain about how the PS3 and Wii layouts already are, to each their own.
First off:
Yeah the update may take a while if you have a slow connection or if you're doing something on your computer, so you might as well find something to do, because it is a bit large but, it shouldn't honestly take that long. Possibly a 3-5 minute
…