First, we started seeing results about Doctor Who games on a Games Blog on the Guardian. And here's what we found:
The BBC has announced that it'll be releasing four Doctor Who Adventure Games to tie in with the latest series of the hit sci-fi show. Mac and PC owners will be able to download each episode from the Doctor Who website, starting in June.
Following through we wandered our way into the BBC article "Doctor Who: The Adventure Games" and then, suddenly, amazement flooded.
Now this should catch our attention.
These four new adventures will take the form of free downloadable computer games available for PC and Mac, in which players assume control of the Doctor and Amy as they embark on new adventures which complement the new TV series.
Doctor
…
Us voces can translate a little Nipponese but not quite enough to read the article behind this blog's post—but the story still intrigues us.
It looks like Namco Bandai—a company that we love simply from all the enjoyment they've brought us—is looking into educating children using a translation from the digital world of video games into the analog world of textbooks.
It sounds like Namco Bandai is layering a choose-your-own adventure into the basic work/textbooks most students use in elementary school. Students follow an RPG storyline by, say, solving math problems and each right answer nets them a key. Scoring enough keys wins the student some kind of prize — but it's not clear if the prize is contained within the book or something physical the teacher distributes. It could be pretty entertaining edutainment if it's not too easy to cheat the game like you
…
Long has been the road of shrill, concerned citizens claiming that video games are the root of all evil—as with the long history of bad moral panics about new media from comic books to the invention of the novel—and like the past they're starting to fall short of irrational. An article posted at the Economix blog of the New York Times suggests that an economist suspects that the drop in crime may correlate to video game usage.
A new claim, especially on the heels of discovering that video game usage does not correlate with crime statistics rising—primarily because violent crime rates have been dropping and video game usage is rising. Of course, as any good friends of us voces correlation does not imply causation, but a lack of correlation does have a tendency to point squarely away from it.
Lawrence Katz, a labor economist, has
…
Us voces have certainly discovered that certain types of game playing can aid us with trying to get some much-needed rest while sick. Especially for dealing with certain types of pain – let's say, for example, stomach cramps – the distraction has a particular placebo effect when it comes to setting pain aside.
Well, it looks like it may not actually simple placebo effect, new research seems to be showing actual analgesic effects!
When children and adults with acute and chronic pain become immersed in video game action, they receive some analgesic benefit, and pain researchers presenting at the American Pain Society's annual scientific meeting reported that virtual reality is proving to be effective in reducing anxiety and acute pain caused by painful medical procedures and could be useful for treating chronic pain.
"Virtual reality produces
…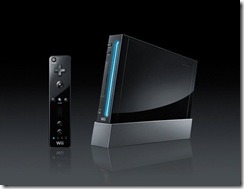 Looks like we'll be seeing an ebony colored Nintendo Wii console. Us voces, of course, have a black wiimote already (because we're like that) but the Wii here happens to be the standard ivory.
Earlier in the month, Nintendo announced that they were going to start shipping black versions of the Nintendo Wii. What's new? Not that much other than the color. It will though, be shipping with both of the Wii Sports games for users to enjoy. What's in the box? Well included is the Wii console of course, nunchuk, and the controller. But, the new model will also include a Wii MotionPlus accessory along with the Wii Sports games. The price and what's in the box deal will also be
…
A little bit of solder, ingenuity, and direction can go a long way for any geek. So when us voces stumbled across this fun little article, we figured that our readers would like to know about it. Here on Instructables, is a little set about how to make something really cool out of those old school controllers so that you can use them with your computer.
Whether playing video games with the keyboard just doesn't do it for you, or you're really trying to recreate that old game console feel, this is a mod sure to bring back memories from simpler times. You don't need any super deep knowledge of electronics to pull this off, although be forewarned that there is a bit of soldering involved. Other than that, though, the project isn't too difficult— it's just a matter of connecting ribbon cable to each individual
…
We've heard this one many, many times. That populations of many MMOs happen to cater to an altogether unexpected crowd: stay-at-home-moms and housewives. A great deal of middle aged women appear in the demographics of MMOs even as spillover from other more casual games. (In fact, we should point out, that several of our best-known hardcore raider friends are married women.)
This article, however, coming out of the London Times Online doesn't do justice to this demographic. Hailing instead towards a rather poorly researched eye on one aspect of the effect of housewives playing MMOs. It spins a story with little evidence to talk about how countries like Korea sees it as a stigma, potentially a social disorder, that some housewives display an addiction to online gaming.
Although relatively new to online gaming compared with their counterparts in South Korea, Japanese women have taken to
…
The Supreme Court of the United States has decided to review a case involving the censorship of video games—namely a controversial issue that involves prohibiting video game sales based on buyer age. Many bills and legislation drafted in this particular arena have failed due to poor design that did not take Constitutional law into account—so it's interesting that the Supreme Court would like to hear this one.
IGDA, the International Game Developer's Union, has issued a statement on this.
Limiting forms of expression in video games limits the expression of game creators, which violates their constitutional rights to free speech in the United States and abroad as specified by Article 19 of the Universal Declaration of Human Rights from the United Nations.
In the specific case of the state of California's Schwarzenegger v. Video Software Dealers Association, 08-1448, which is coming
…