Doritos and Microsoft have teamed up to promote their brands through a contest on Xbox Live, offering players a chance to submit their own hard work, dreams, and efforts to their corporate masters for little more than the chance to win a contest. It's called Unlock Xbox, and it runs today through October 4th.
"We are always looking for new ways to connect with fans and give them unique opportunities to express their creativity in a way only Doritos and our partners can deliver," said Ann Mukherjee of Frito-Lay, in a statement that made my skin crawl with a thousand outraged artistic sensibilities.
The end result will be ten semi-finalists, voted on by Xbox players, and plastered up and down with branding from Doritos, Microsoft, and whatever other corporate partners attach themselves to the contest.
You can read the whole press release here. Bring along some strong drink, …
Music games are an interesting story in the world of video gaming. Born from the niche genre of rhythm games, this new species evolved a spine of hardened rock & roll, and now it wades tall through the protozoic soup of those ancient seas. Now, music gaming showcases new bands, brings classic rock to those who might never have come to appreciate it, and, in the end, the muscled back of music gaming is straining with clenched tendons to carry the music industry as a whole.
Music sales have fallen, the industry itself — a bloating corpse-beast of greed and ego and control — is shaking under the weight of new channels for pumping music and videos directly into the public's collective veins. Without their winding chains locking up every opening in the gates between musician and listener, the music industry can no longer support the …
The Interactive Entertainment Association of Australia, an industry group fronting for game makers, publishers, and the assorted parasitical debris of the gaming community, has recently changed its name and focus to keep up and with current gaming trends. In a bid toward relevance, the IEAA has emerged from the cocoon as IGEA – the Interactive Games and Entertainment Association. But this is more than just a rebranding. As gamers age and game-related revenue climbs, the industry body has shifted its focus.
Gamespot.com has the story and interview.
This Friday, Microsoft will drop the price of its top-end Xbox package, the Xbox 360 Elite, by $100 to compete with a similar sticker slash from Sony. These cuts come at a good time, just into the holiday season and with newer, hit titles to back them. Both Xbox 360 and the Playstation 3 carry the latest Madden title, John Madden NFL 10, as well as Batman: Arkham Asylum. Word on the street puts the new Batman game as a solid Game of the Year title, so that should help sales on both consoles.
When asked when they'd cut prices on the Wii, Nintendo responded with the finger from atop their ever-growing tower of raw cash.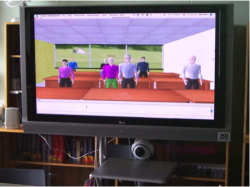 One of the greatest powers of our teleconnected age is the ability to reach out and do good work from anywhere to anywhere. Telecommuting, it's called. Virtual reality adds the power to actually be there without being there. The city of Boston is mulling over a charter school built around virtual reality and telecommunications technology.
The school is designed to host those students who can't show up at a regular classroom, either because of distance, illness, or incarceration. Yeah, those prison kids need an education too.
Hypergrid Business has the story.
Tomorrow.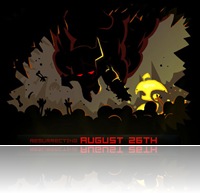 Castle Crashers by The Behemoth—possibly one of the cutest action-arcade games playable on the Xbox 360 with friends—features a great deal of downloadable content to extend and otherwise enhance already rapid-fire, chibi gameplay.
The Necromantic DLC pack is being released Thursday, Aug 26th 2009. According to sources, the last time The Behemoth released a DLC they spread codes across their forums like rich tapioca pudding. So we'd say keep a lookout for that.
For just 160 MS Points, come Thursday, this lovely little DLC could be yours. Just let us know how it works out!
Link, via The Behemoth dev blog
One of my favourite games on the old NES is Sunsoft's Batman, and that trend hasn't much changed through the ages. If you want jumping, brawling, stealth, and gadgets, you want the bat.
Batman: Arkham Asylum is the latest bat on the block, and it looks like a worthy effort. Lots of enemies, lots of martial art moves, ninjatastic stealthing, and more or less running around as a deadly shadow that all men fear. Good stuff. Here's the launch release trailer.
…
While Second Life isn't exactly a video game, it does touch very closely on the digital world paradigm of gamers and influences our rights and abilities in this medium. So when we hear tell that a prominent anthropologist who studies these things is getting interviewed in a readily accessible virtual world, we like to bring it to everyone's attention.
Can't get there in real life? Second Life is only an Internet connexion away.
The UK Second Life community and the UK Department of Anthropology invite all to attend — in real life or in Second Life — an interview by AJ Kelton with Tom Boellstorff (SL: Tom Bukowski), Editor-in-Chief of American Anthropologist, the flagship journal of the American Anthropological Association and author of Coming of Age in Second Life: An Anthropologist Explores the Virtually Human (Princeton University Press, 2008). Mark your calendar
…
A while back, I had a sudden revelation. In the times of lore, our parents, their generation, fought the established order for control of society. The result was the protests and movements of the 60s and 70s. Our generation has cut out the establishment to die alone and unloved in the cold, while we create our own digital societies.
But a digital society relies on technology and services, and marketers are there at the gate to make sure we choose the right gizmos.
The Vancouver Sun has an article about digital marketing and the brands we use in our daily virtual lives. Read it here.
So it seem the rumoured Bioshock movie might, probably, could be, maybe happen. Universal Studios has announced that director Juan Carlos Fresnadillo is taking over the project. The movie's previous director, one Gore Verbinski, apparently stepped down after a budget adjustment. You can find the whole story over at Film School Rejects.
Now, back to what really matters here, my opinion. Truth is, Bioshock could make a fine movie, because it has what any memorable movie really needs – a unique style. Rapture, with its submerged and alien Art Deco design is a perfect setting for a wonderful tale about the hubris of men, the fall of empires, and the merits of a hand that shoots bees.
Of course, the Silent Hill movie had the same things going for it, stylewise, and look what happened. Brilliant visuals and atmosphere ruined thanks to a …